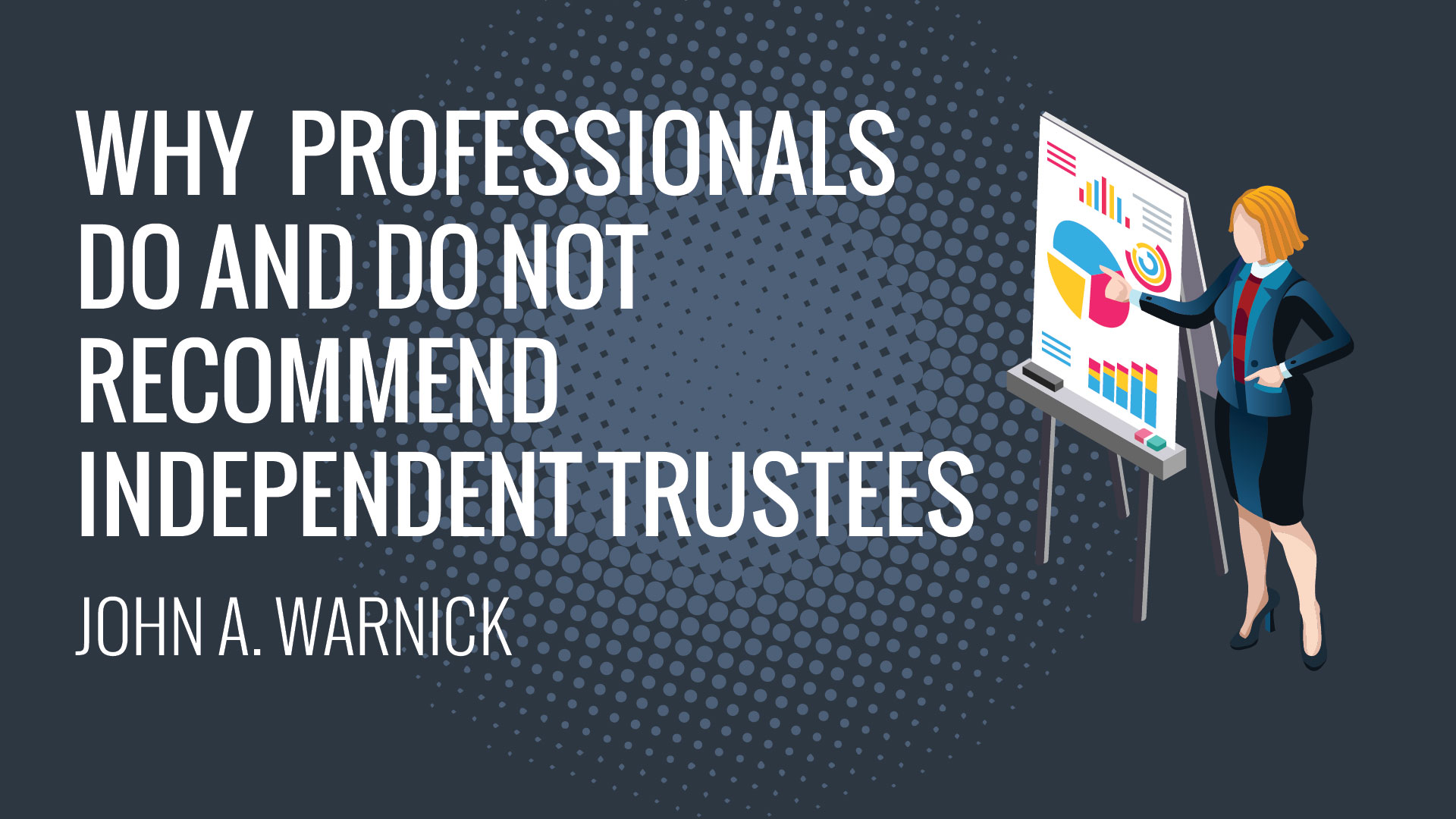 How can independent trustees distinguish themselves from corporate trustees? How do generative trusts benefit your clients and their beneficiaries? Is a trust a legal document – or a meaningful relationship? "John A" will answer these questions and more as he details the ways Independent Trustees can help attorneys and their clients.
Independent Trustees

In this CLE you will learn about this Independent Trustees and how they can be a valuable addition to your team to continually increase your value to your clients.
Drawing on his wealth of insights amassed from industry insiders, experts, prognosticators and visionaries, John will address the advantages and disadvantages when professionals recommend Independent Trustees to their clients. John will also focus on how professional trustees and fiduciaries can continue to adapt to the needs of this emerging profession. Why Professionals Do and Do Not Recommend Independent Trustees.
John will mainly address:

* The role of the trustee

* Your approach to purposeful planning

* Legal professionals & trust options

* How the generative trust can benefit your clients.
John A. Warnick is the Founder of the Purposeful Planning Institute. John delivers workshops across the country for estate planning attorneys and financial planners to help them better understand how to help their clients.
This CLE course is offered in the following states:

* Alaska (AK)

* Arizona (AZ)

* California (CA)

* Connecticut (CT)

* District of Columbia (DC)

* Illinois (IL)

* Maryland (MD)

* Massachusetts (MA)

* Michigan (MI)

* Missouri (MO)

* New Hampshire (NH)

* New Jersey (NJ)

* New York (NY)

* North Dakota (ND)

* Pennsylvania (PA)

* South Dakota (SD)
Attorney Credits offers CLE for attorneys in Illinois and around the country. For more information about CLE in Illinois please click the following link: IL CLE.