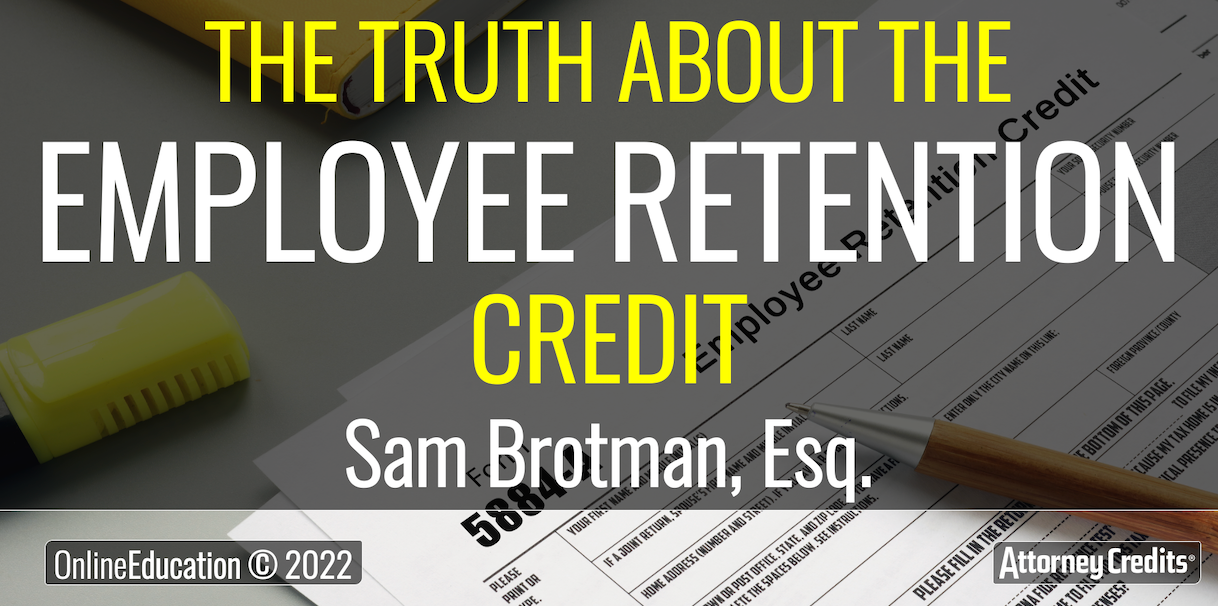 Employee Retention Credit (ERC): Money for Your Clients
Have you ever delivered such good news to a client – that they literally fell out of their chair? That's what happened when Sam told his client that her business would qualify for a $300,000 Employee Retention Credit under the CARES Act.
$90,000 ERC for a Small Business Owner Client

Another small business owner broke into tears when Sam got her a $90,000 credit for her small automotive repair shop.
Don't Leave Your Clients Money on the Table: The Employee Retention Credit (ERC)
Many business owners don't know about the ERC or they've received bad professional advice and been told they don't qualify because they have not had a significant drop in revenues. Sam will provide a comprehensive look at eligibility rules for the Employee Retention Credit, a full or partial suspension of operations due to governmental orders, the 2020 & 2021 gross receipts calculations & elections and the American Rescue Plan Act of 2021's expansion of the ERC to recovery start-up businesses. To access the course please click here: The Truth About the Employee Retention Credit.
ERC Tax Law CLE Topics:

* The Paycheck Protection Program (PPP) & the ERC

* Partial ERC credits

* The operation of a trade/business

* Amended return matters

* Documenting via Opinion Letters

* The gross receipts test

* The safe harbor

* Establishing a reasonable defensible position
Samuel D. Brotman – Helping Small & Large Business Clients
Samuel D. Brotman is the founder of Brotman Law. His practice primarily centers on all aspects of tax litigation and criminal & civil tax controversies. Although a strong proponent of early stage tax resolution, Sam's practice is uniquely tailored to assist clients in all phases of their tax controversy from administrative resolution of the lawsuit.
This CLE course is offered in the following states:

* Alaska (AK)

* Alabama (AL)

* Arizona (AZ)

* California (CA)

* Connecticut (CT)

* District of Columbia (DC)

* Illinois (IL)

* Maryland (MD)

* Massachusetts (MA)

* Michigan (MI)

* Missouri (MO)

* New Hampshire (NH)

* New Jersey (NJ)

* New York (NY)

* North Dakota (ND)

* Pennsylvania (PA)

* South Dakota (SD)

* Vermont (VT)
California CLE
Attorney Credits offers CLE for attorneys in California and around the country. For more information about CLE in California please click the following link: CA CLE.