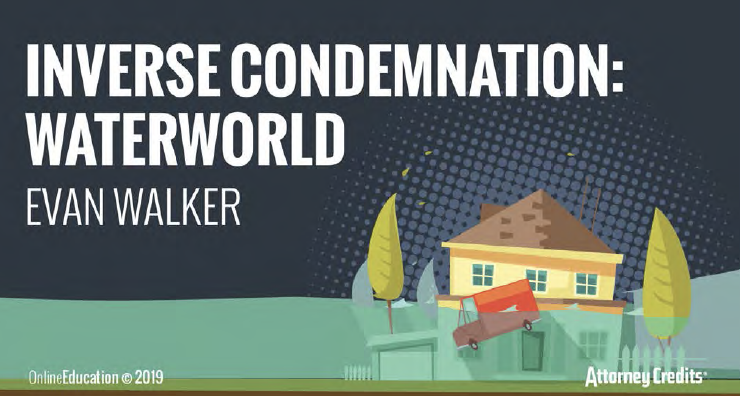 Inverse condemnation in California is a nebulous area of law that involves constitutional claims, tort law and public entity immunity. The case law is murky and in the wake of the recently decided City of Oroville, property owners now face a much tougher road in these cases.
California Inverse Condemnation CLE

Evan Walker handles inverse condemnation cases in California. In this CLE course, he mainly discusses the elements of Inverse Condemnation, water types, just compensation for property owners and strategies to succeed at trial.
Evan Walker has been tracking this area of law and created this course in the wake of the California Supreme Court's decision in City of Oroville that fundamentally changed this complicated area of law. This course will guide you through this nebulous and confusing area of law. To access the course please click here: Inverse Condemnation: Waterworld.
Evan will specifically address:

* Ownership of private property

* Goodwill

* Substantial government participation in a public project

* Taking or damaging private property

* Causation

* Water types & surface waters

* Stream & flood waters

* City of Oroville v. Superior Court

* Locklin v. City of Lafayette
Evan W. Walker is a La Jolla attorney who has practiced law since 2008 when he graduated as part of the 'Hurricane Katrina Class' from law school in New Orleans. His entire practice has been in litigation with a focus on property damage and personal injury.
This CLE course is offered in the following states:

* Alaska (AK)

* Arizona (AZ)

* California (CA)

* Connecticut (CT)

* District of Columbia (DC)

* Illinois (IL)

* Maryland (MD)

* Massachusetts (MA)

* Michigan (MI)

* Missouri (MO)

* New Hampshire (NH)

* New Jersey (NJ)

* New York (NY)

* North Dakota (ND)

* Pennsylvania (PA)

* South Dakota (SD)
Attorney Credits offers CLE for attorneys in California and around the country. For more information about CLE in California please click the following link: CA CLE.