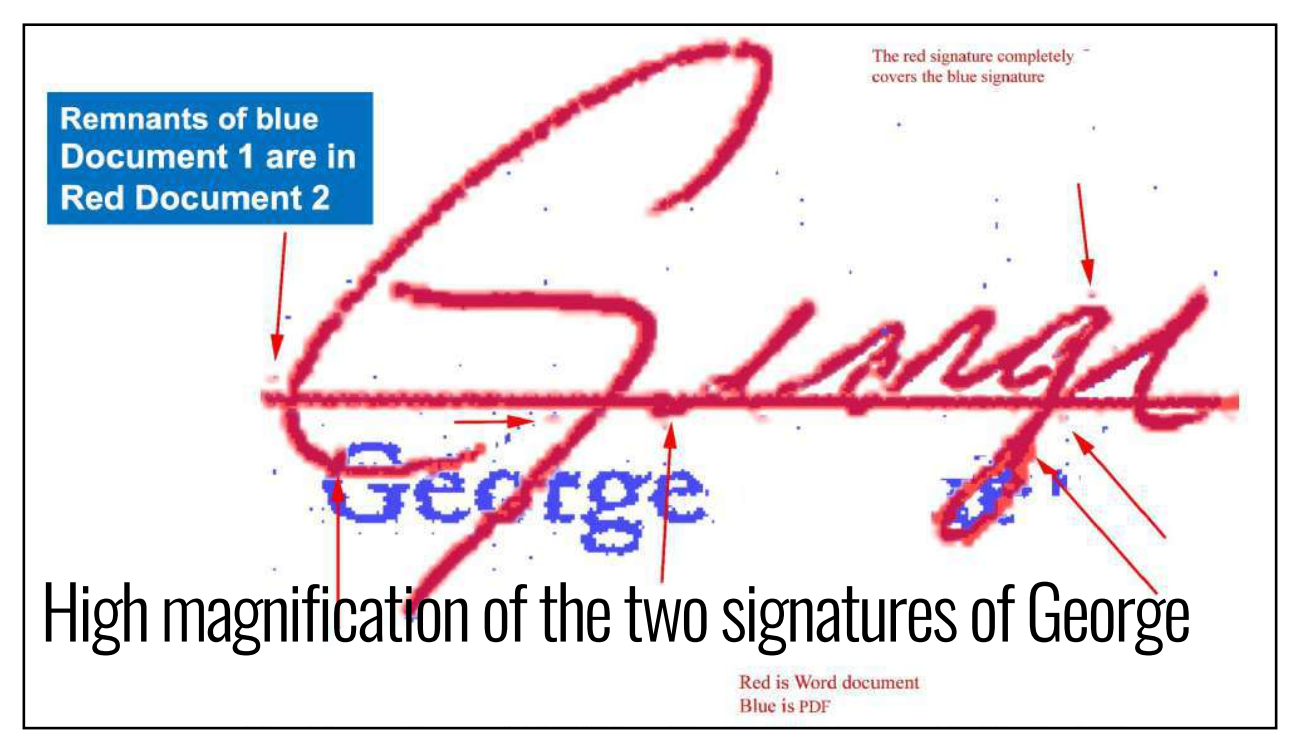 JPGs, PDFs and Emails are Documents That Can Be Faked Too
Emails, PDFs, word docs, JPGs & more have now expanded the world of documents – as well as forgeries, fakes and cut & paste signatures. How do you know if a PDF is legit? Or if the signature on a holographic will has been "lift cropped?"
Legal "Documents" – Much More than Just Documents

Nowadays "documents" means much more than it did 30 years ago when all your valuable "papers" were behind lock & key in your trusty file cabinet.
Forgeries, Fakes and Cut & Paste Signatures
Dr. Edmond Locard said that "any action… constituting a crime, cannot occur without leaving a trace." Mike Wakshull will show you how he finds these traces & crumbs of evidence using the tools & techniques of his Forensic Document Examination practice. Case examples discussed: is a JPEG embedded in PDF part of the original document, Divorce Case – Zoom stock split email, altered real estate deed filed with the county recorder, alteration of a mortgage document, PDF authenticity, faked signature on a holographic will, intersection of ink & toner and intersecting lines. To access the course please click here: Little Known Secrets About Altered Documents in Legal Cases.
Further CLE topics:

* Repeatability, Reproducibility & Replicability

* Photoshop tools

* Using camera metadata

* GPS data

* The Video Spectral Comparator (VSC)

* The digital microscope

* Using blue light & filters

* ESDA Imaging
Michael N. Wakshull, MS, CQE, PMP, CISA, Forensic Document Examiner
Michael N. Wakshull is a court-qualified civil & criminal forensic document examiner and has been qualified as an expert witness in California Superior Courts and Federal District Court. His clients are in 27 states and five countries and partners with legal clients to dissect evidence presented in handwritten and computer-generated questioned documents.
This CLE course is offered in the following states:

* Alaska (AK)

* Alabama (AL)

* Arizona (AZ)

* California (CA)

* Connecticut (CT)

* District of Columbia (DC)

* Illinois (IL)

* Maryland (MD)

* Massachusetts (MA)

* Michigan (MI)

* Missouri (MO)

* New Hampshire (NH)

* New Jersey (NJ)

* New York (NY)

* North Dakota (ND)

* Pennsylvania (PA)

* South Dakota (SD)

* Vermont (VT)
Texas CLE
Attorney Credits offers CLE for attorneys in Texas and around the country. For more information about CLE in Texas please click the following link: TX CLE.