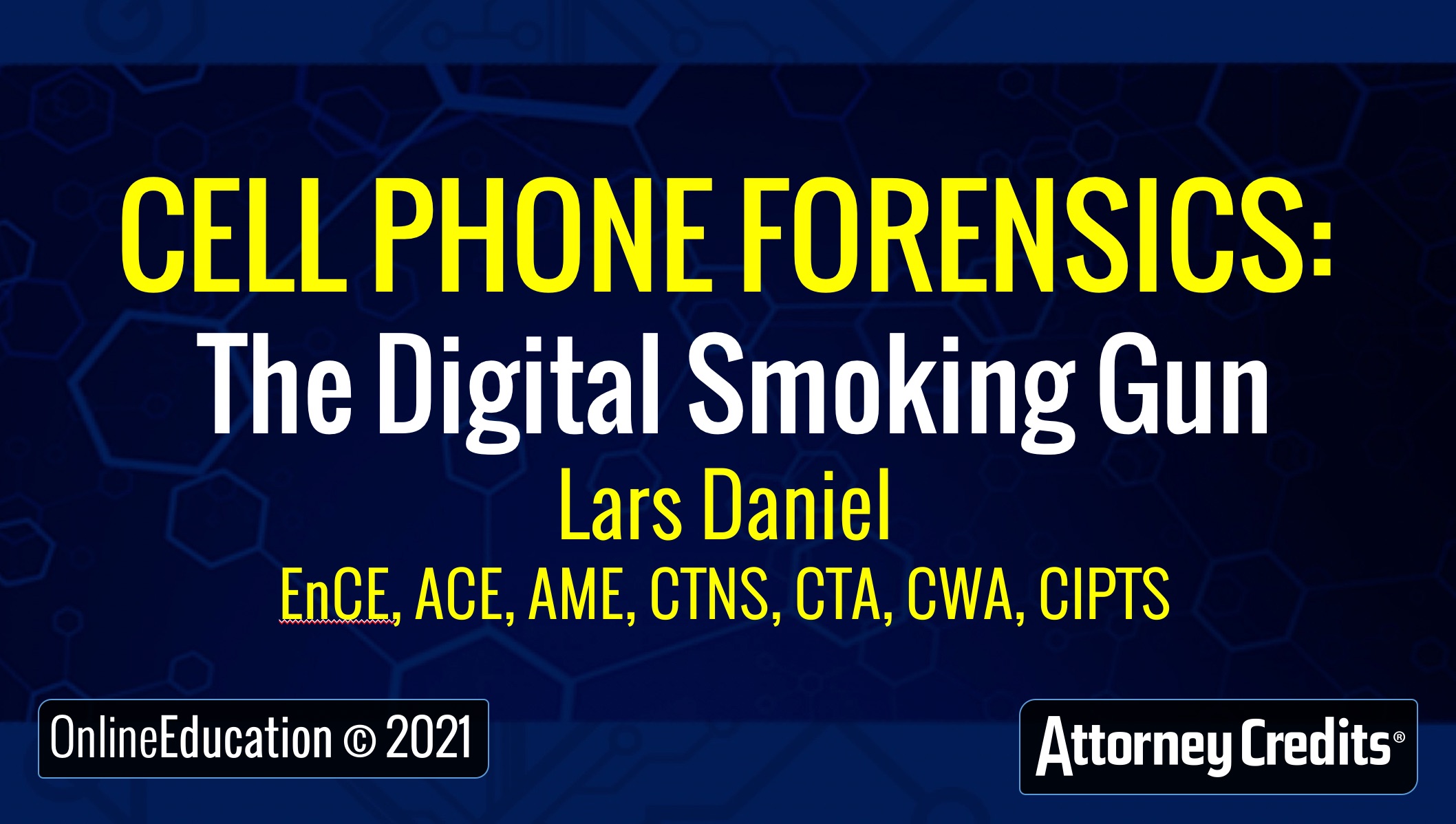 There are now billions of iPhones, Droids and other cell phones around the planet. And with countless apps, limitless tracking capabilities & ubiquitous WiFi, that iPhone in your client's pocket holds a treasure trove of electronic information.
Cell Phone Forensics.. In English

Don't worry though – you don't have be a total tech geek to understand how cell phone forensics can help you in your criminal and civil cases.
Lars Daniel breaks things down in plain English by utilizing colorful case examples to illustrate how electronic information generated by cell phones and digital devices can make – OR break – your client's case. Lars will address the following topics: "thumb forensics" & first responders, file systems, deleted & destroyed data, conducting manual examinations, Google Maps location data, user accounts, Internet searches & web history, call logs, text (SMS) messaging, apps, timelines, affidavit highlights, video verification, fakes messages and spoofing. To access the course click here: Cell Phone Forensics: The Digital Smoking Gun.
Lars will mainly discuss:

* Collection

* Acquisition

* Analysis

* Examination

* ESI

* Evidence on smartphones

* Challenging digital evidence generated by cell phones.
A seasoned digital forensics expert,, author and speaker, Lars Daniel has attended over 350 hours of forensic training and has worked on over 500 cases involving murder, child pornography, terrorism, rape, kidnapping, intellectual property, fraud, wrongful death, among other case types.
This CLE course is offered in the following states:

* Alaska (AK)

* Alabama (AL)

* Arizona (AZ)

* California (CA)

* Connecticut (CT)

* District of Columbia (DC)

* Illinois (IL)

* Maryland (MD)

* Massachusetts (MA)

* Michigan (MI)

* Missouri (MO)

* New Hampshire (NH)

* New Jersey (NJ)

* New York (NY)

* North Dakota (ND)

* Pennsylvania (PA)

* South Dakota (SD)

* Vermont (VT)
Attorney Credits offers CLE for attorneys in CA and around the country. For more information about CLE in California please click the following link: CA CLE.