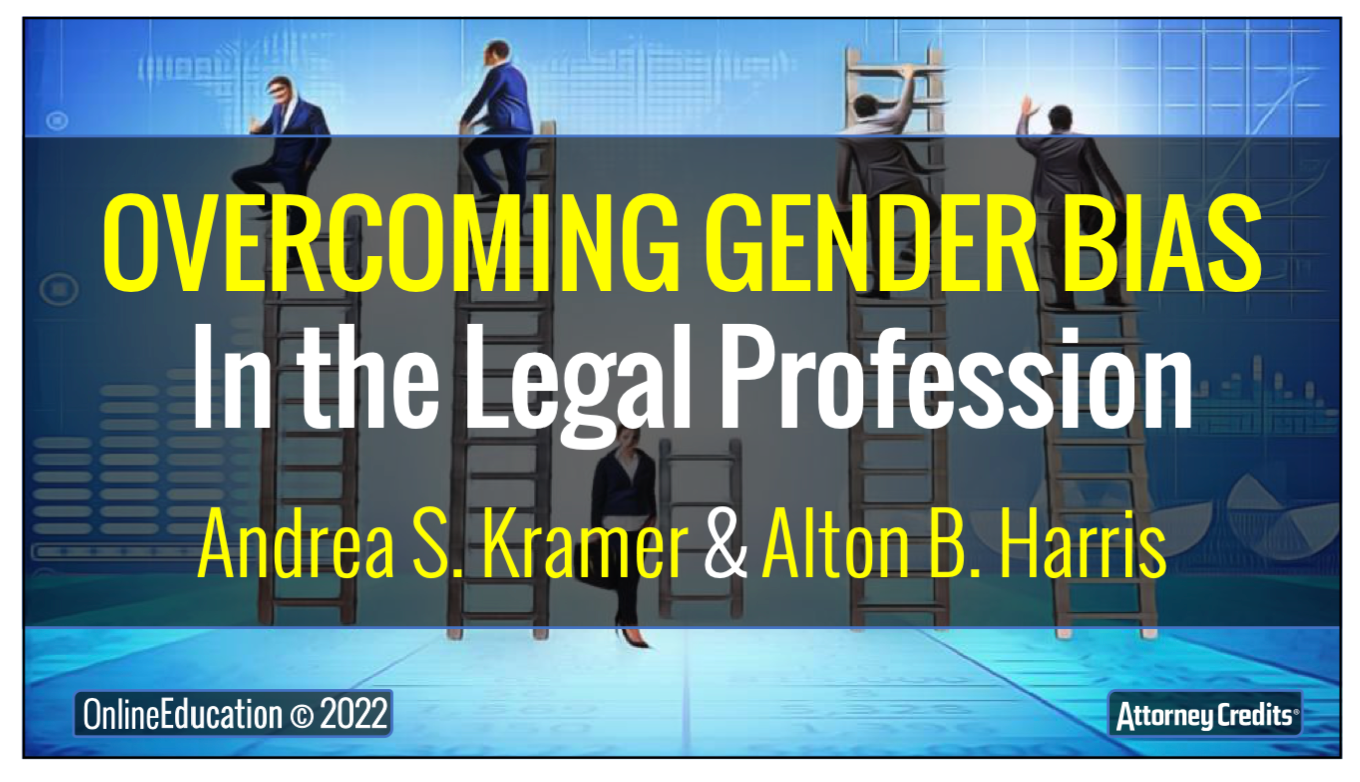 Elimination of Bias + Implicit Bias
There is a reason why many states now require some form of elimination/implicit bias CLE. The legal profession is STILL full of old white men and unconscious bias.
The Glass Ceiling in the Legal Profession

"Unquestionably, all employers, whether they are governmental, private, or not-for-profit, should do much more to reform their workplaces so that women are evaluated, compensated, and promoted on a basis comparable to men. But waiting for these reforms is unacceptable for a woman who wants to move up."  – Andie Kramer
Lawyers & Law Firms: How to Overcome Gender Bias
The good news – Andie and Al are here to show you what can be done to create a more successful and profitable law firm. Andi and Al will mainly address the gender achievement gap, how diversity & inclusion benefits firms, why greater gender diversity & inclusion has not been achieved and what legal organizations can do to reduce gender bias. To access the course please click here: Overcoming Gender Bias in the Legal Profession.
Further topics in this Bias CLE:

* What the ABA has done to address gender bias

* The moral & business rationale for diversity & inclusion

* Affinity & unconscious bias

* ABA Model Rule 8.4(G)

 * ABA Resolutions 10A, 108D, 300 & 302

* Masculine & feminine stereotypes

* Chuck Norris

* Intersectionality

* Consequences of bias

* Unconscious bias

* What allies can do

* The bias assessment
Andie Kramer + Al Harris = Bias Warriors
Andrea S. Kramer is an attorney and a partner in the international law firm of McDermott Will & Emery, LLP. The managing partner in the Chicago office of Nixon Peabody, Al Harris is a frequent writer and lecturer on the financial markets, financial regulation, corporate governance and diversity in the legal profession.
This CLE course is offered in the following states:

* Alaska (AK)

* Alabama (AL)

* Arizona (AZ)

* California (CA)

* Connecticut (CT)

* District of Columbia (DC)

* Illinois (IL)

* Maryland (MD)

* Massachusetts (MA)

* Michigan (MI)

* Missouri (MO)

* New Hampshire (NH)

* New Jersey (NJ)

* New York (NY)

* North Dakota (ND)

* Pennsylvania (PA)

* South Dakota (SD)

* Vermont (VT)
California CLE
Attorney Credits offers CLE for attorneys in California and around the country. For more information about CLE in California please click the following link: CA CLE.