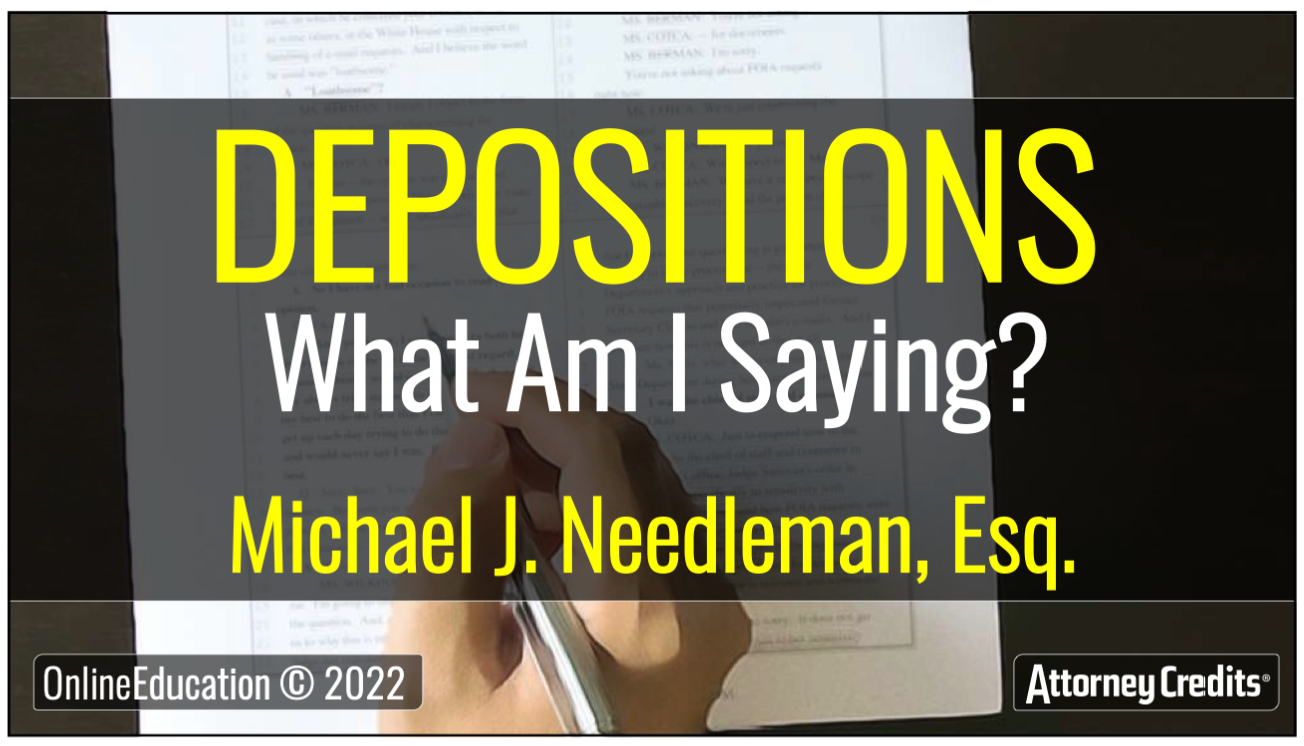 Depositions CLE: What Am I Saying?
What exactly is a 30(b)(6) witness? How do you secure a deposition? Why should you not object… and what should you say when you object. Any questions? Of course there are questions – it's a course about depositions!
FRCP Rule 30 Depositions

Presented by Michael Needleman, this CLE is designed to introduce key concepts of conducting a deposition and then provide deeper practical insights into FRCP Rule 30.
Practical Points for Depositions
Trial attorney Michael Needleman will provide his practical insights into conducting FRCP Rule 30 depositions, from deciding whether to video the deposition to when NOT to object. This course will also discuss the privileges that can be asserted in such a deposition, and how they differ slightly from those that can be asserted in other depositions. Finally, this course will cover some of the unique issues that arise at such a deposition, such as the functional equivalent doctrine. To access the course please click here: Depositions: What Am I Saying?
In this CLE the key subjects covered include:

* Limitations

* The attorney-client privilege

* Instructions

* Deponent's criminal history

* Asserting objections

* Defending depositions

* Why you should not object

* What to say when objecting

* Video – or not to video

* Expert depositions

* Ethics

* Exhibits

* Tips, tricks & potential traps
Michael J. Needleman – Trial Attorney
Michael J. Needleman is a Partner in the firm's litigation department. He has extensive trial experience, having tried cases across Pennsylvania and New Jersey as well as in the District of Columbia.
This CLE course is offered in the following states:

* Alaska (AK)

* Alabama (AL)

* Arizona (AZ)

* California (CA)

* Connecticut (CT)

* District of Columbia (DC)

* Illinois (IL)

* Maryland (MD)

* Massachusetts (MA)

* Michigan (MI)

* Missouri (MO)

* New Hampshire (NH)

* New Jersey (NJ)

* New York (NY)

* North Dakota (ND)

* Pennsylvania (PA)

* South Dakota (SD)

* Vermont (VT)
California CLE
Attorney Credits offers CLE for attorneys in California and around the country. For more information about CLE in California please click the following link: CA CLE.