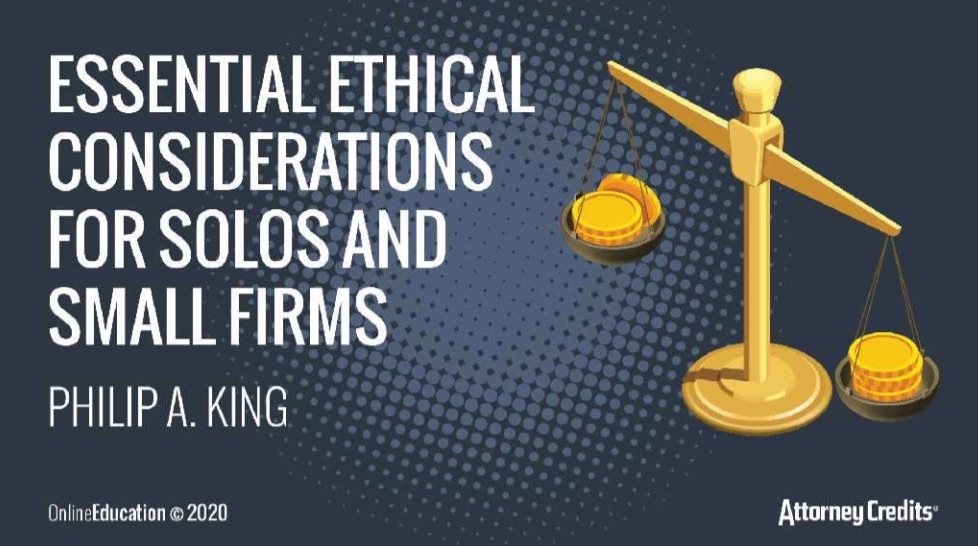 Who do you think is punished more frequently for ethical violations – big law or small law attorneys? Because small law attorneys don't have the same resources and systems as their big law brethren, solo and small firm attorneys face discipline at a much higher rate.
Essential Ethics CLE for Small Law Attorneys

In this CLE, Philip King will highlight common ethical pitfalls for small law attorneys and provide you with numerous helpful points so you can spot and avoid these practice traps.
Ohio attorney Philip King has investigated over 1,000 ethical grievances against attorneys & judges in his time with the Ohio Office of Disciplinary Counsel. He has seen small law and solo attorneys continue to repeat the same common routine ethical violations time and time again. Philip will focus on these main issues: using the firm name & letterhead in advertising, staying competent by picking a niche, setting your attorney fees and client solicitation & advertisement. To access the course click here: Essential Ethical Considerations for Solos and Small Firm Attorneys.
These topics are also covered:

* The angers of Door Law

* Reasonable attorney fees

* What to charge for personnel

* Prohibited clauses

* Division of fees

* Calculating alternative & fixed fees

* Client referrals
Philip King is the owner of the firm, Law Office of Philip A. King, LLC, and he focuses on probate, estate planning and guardianship issues. Before starting his own law firm, Mr. King worked with the Ohio Supreme Court's Office of Disciplinary Counsel.
This CLE course is offered in the following states:

* Alaska (AK)

* Arizona (AZ)

* California (CA)

* Connecticut (CT)

* District of Columbia (DC)

* Illinois (IL)

* Maryland (MD)

* Massachusetts (MA)

* Michigan (MI)

* Missouri (MO)

* New Hampshire (NH)

* New Jersey (NJ)

* New York (NY)

* North Dakota (ND)

* Pennsylvania (PA)

* South Dakota (SD)
Attorney Credits offers CLE for attorneys in California and around the country. For more information about CLE in California please click the following link: CA CLE.