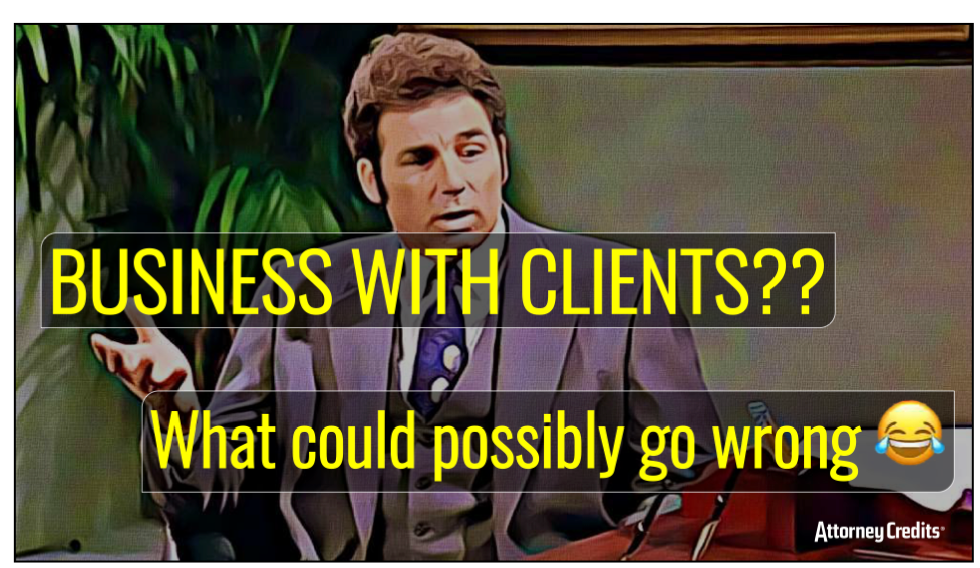 Contract Ethics Trap: Business with Clients
Your long-time client emails and wants you to review some documents & contracts for his new business selling cryptocurrency to teenagers – and he also wants you to be the new CEO and general counsel. Good idea??
Contract Review: Ethical Pitfalls for Clients

From fake real estate transactions to drafting executive compensation packages, there are many intersections between reviewing contracts and the ethical standards of the legal profession.
Attorneys Ethical Duties When Reviewing Client Contracts
R. Shawn McBride works with business owners all over the country and he knows that things can get a little dicey with your business clients.  Shawn will present common everyday scenarios where attorneys run into ethical dilemmas with business clients when reviewing corporate, LLC and small business contracts. To access the course please click here: Ethics of Contract Review.
Ethical Rules Discussed:

* Rule 1.2 – Scope of Representation

* Rule 1.7-1.10 – Conflicts of Interest & Business Transactions with Clients

* Rule 1.18 – Duties to Prospective Clients

* Rule 1.13 – Organization as Client

* Rule 2.4 – Lawyer as 3rd Party Neutral

* Rule 4.3 – Unrepresented Persons

* Rule 5.1 – Supervisors & Subordinates

* Rule 7.3 – Info About Legal Services

* Rule 1.5 – Fees

* Rule 1.15 – Safekeeping Property

* Rule 1.3 – Diligence

* Rule 8.3 – Reporting Professional Misconduct

* Rule 2.1 – Advisor
R. Shawn McBride – Business & Ethics Attorney
Tom Kirkham, founder and CEO of Intech Security, provides cybersecurity defense systems and focuses on educating and encouraging organizations to establish a security-first environment with cybersecurity training programs for all workers to prevent successful attacks.
This CLE course is offered in the following states:

* Alaska (AK)

* Alabama (AL)

* Arizona (AZ)

* California (CA)

* Connecticut (CT)

* District of Columbia (DC)

* Illinois (IL)

* Maryland (MD)

* Massachusetts (MA)

* Michigan (MI)

* Missouri (MO)

* New Hampshire (NH)

* New Jersey (NJ)

* New York (NY)

* North Dakota (ND)

* Pennsylvania (PA)

* South Dakota (SD)

* Vermont (VT)
Florida CLE
Attorney Credits offers CLE for attorneys in Florida and around the country. For more information about CLE in Florida please click the following link: FL CLE.