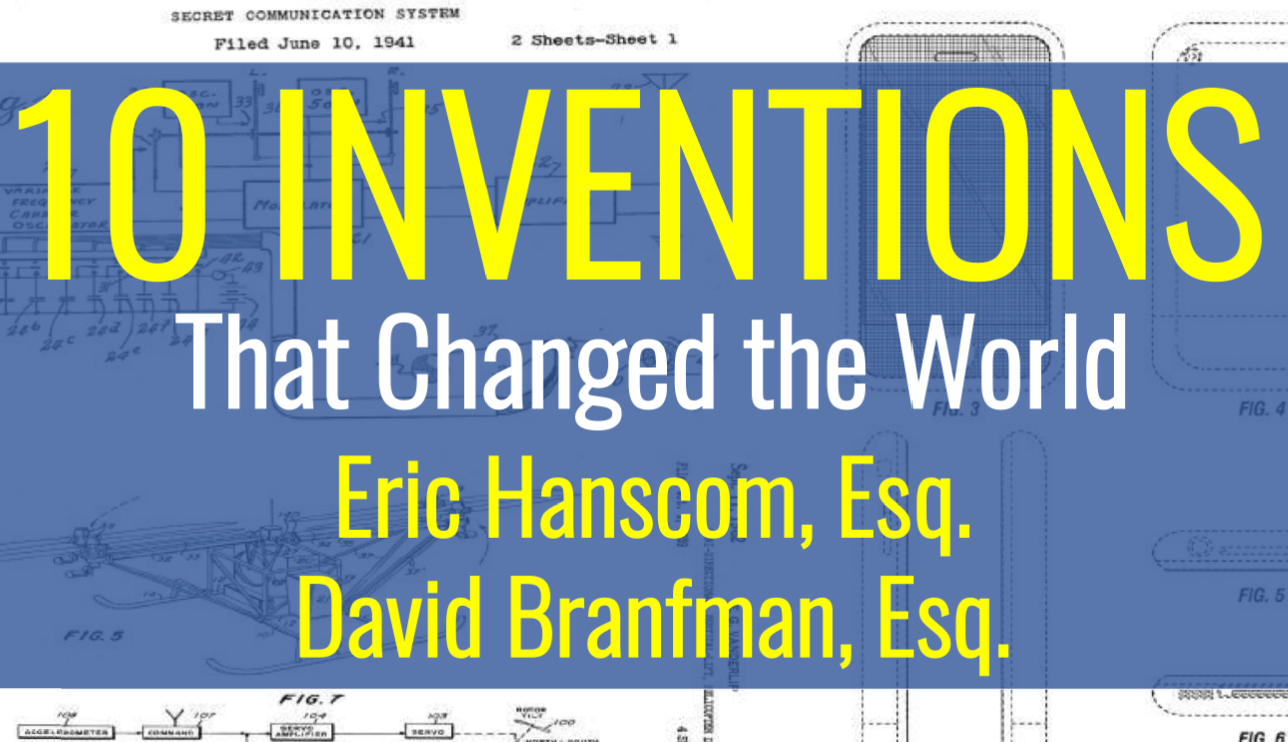 Patents Change the World
The patent system was one of the earliest instruments of economic development established by the young United States. These patent protections put in place by the Founding Fathers fostered the inventive American spirit and led to inventions that have truly changed the world
From Piggly Wiggly to GPS

Did you know that the patent for solar cells dates back to the 1880s? Or that Piggly Wiggly was extremely groundbreaking and changed the way we shop? And there would be no GPS without the beautiful actress Hedy Lamarr's inventions!!
Patents Foster Economic Growth
From vulcanized rubber to the iPhone, Eric Hanscom and Dave Branfman provide an insightful glimpse into 10 patents that shaped the world we live in today. Eric and Dave will use these inventions and patents to teach numerous practical lessons including the importance of claims, inventorship, multiple inventors, assignment, patent applications, design vs. utility patents, Apple Inc. v. Samsung Electronics Co., additional IP protection, copyright & trademark protection and patent illustrations. To access the course please click here: 10 Inventions That Changed the World.
10 Patents Discussed:

* Frequency hopping

* Vulcanized rubber

* The quad copter

* The elevator

* GPS

* The self-serving store

* Solar energy

* The iPhone

* Virtual reality

* The self-driving car
Eric Hanscom & Dave Branfman
Patent attorney Eric Hanscom is actively involved in overseeing IP litigation, contract negotiation and customs issues around the globe. David Branfman's IP practice focuses on entertainment law, including trademarks, copyrights, trade secrets, licensing, motion pictures & TV and music.
This CLE course is offered in the following states:

* Alaska (AK)

* Alabama (AL)

* Arizona (AZ)

* California (CA)

* Connecticut (CT)

* District of Columbia (DC)

* Illinois (IL)

* Maryland (MD)

* Massachusetts (MA)

* Michigan (MI)

* Missouri (MO)

* New Hampshire (NH)

* New Jersey (NJ)

* New York (NY)

* North Dakota (ND)

* Pennsylvania (PA)

* South Dakota (SD)

* Vermont (VT)
California CLE
Attorney Credits offers CLE for attorneys in California and around the country. For more information about CLE in California please click the following link: CA CLE.