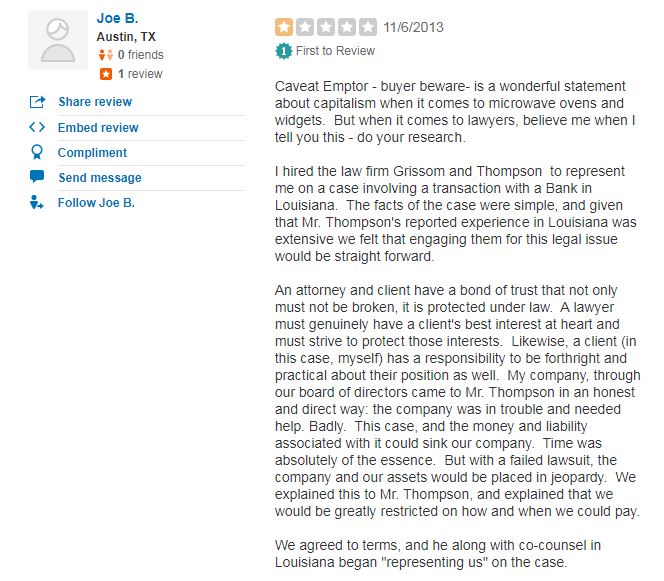 You get a frantic call from an attorney you've known since law school. Apparently, a person that she declined to represent left scathing, false reviews with one stars on a number of review websites like Yelp and RipoffReport.com. She is extremely distraught since she relies in the Internet for new clients and she wants your advice on what to do.
Handling Online Defamation Cases

This CLE course will provide you with a blueprint of how to handle online defamation cases and the removal of websites that spread malicious, false information about businesses and individuals.
Paul Sternberg handles these exact issues on a daily basis at his Texas law firm. In this CLE course, Paul will mainly talk about  protected speech under the First Amendment, determining anonymous defamatory posters on the web, understanding liability under the CDA & the DMCA, legal strategies to consider and building the framework of a defamation case or defense. To access the course please click here: Attorney's Guide to Online Defamation and Website Removal.
He will also cover:

* Libel vs. slander

* Weighing the decision to sue

* Deploying a cease & desist letter

* SLAPP & ANTI-SLAPP laws

* The Streisand Effect

* Elements to prove

* Statutes of limitation

* Public vs. private figures

* Malice vs. negligence

* Proof of damages

* Drafting a court order

* Utilizing Terms of Service

* Restoring your client's reputation

* The keys to success in a defamation case
Paul M. Sternberg has been in private practice at his Texas law firm since 2001. A seasoned entrepreneur, Paul is the author of The Attorney's Guide to Internet Defamation and Website Removal. He concentrates his practice in the areas of Internet defamation law and business law.
This CLE course is offered in the following states:

* Alaska (AK)

* Arizona (AZ)

* California (CA)

* Connecticut (CT)

* District of Columbia (DC)

* Illinois (IL)

* Maryland (MD)

* Massachusetts (MA)

* Michigan (MI)

* Missouri (MO)

* New Hampshire (NH)

* New Jersey (NJ)

* New York (NY)

* North Dakota (ND)

* Pennsylvania (PA)

* South Dakota (SD)
Attorney Credits offers CLE for attorneys in California and around the country. For more information about CLE in California please click the following link: CA CLE.