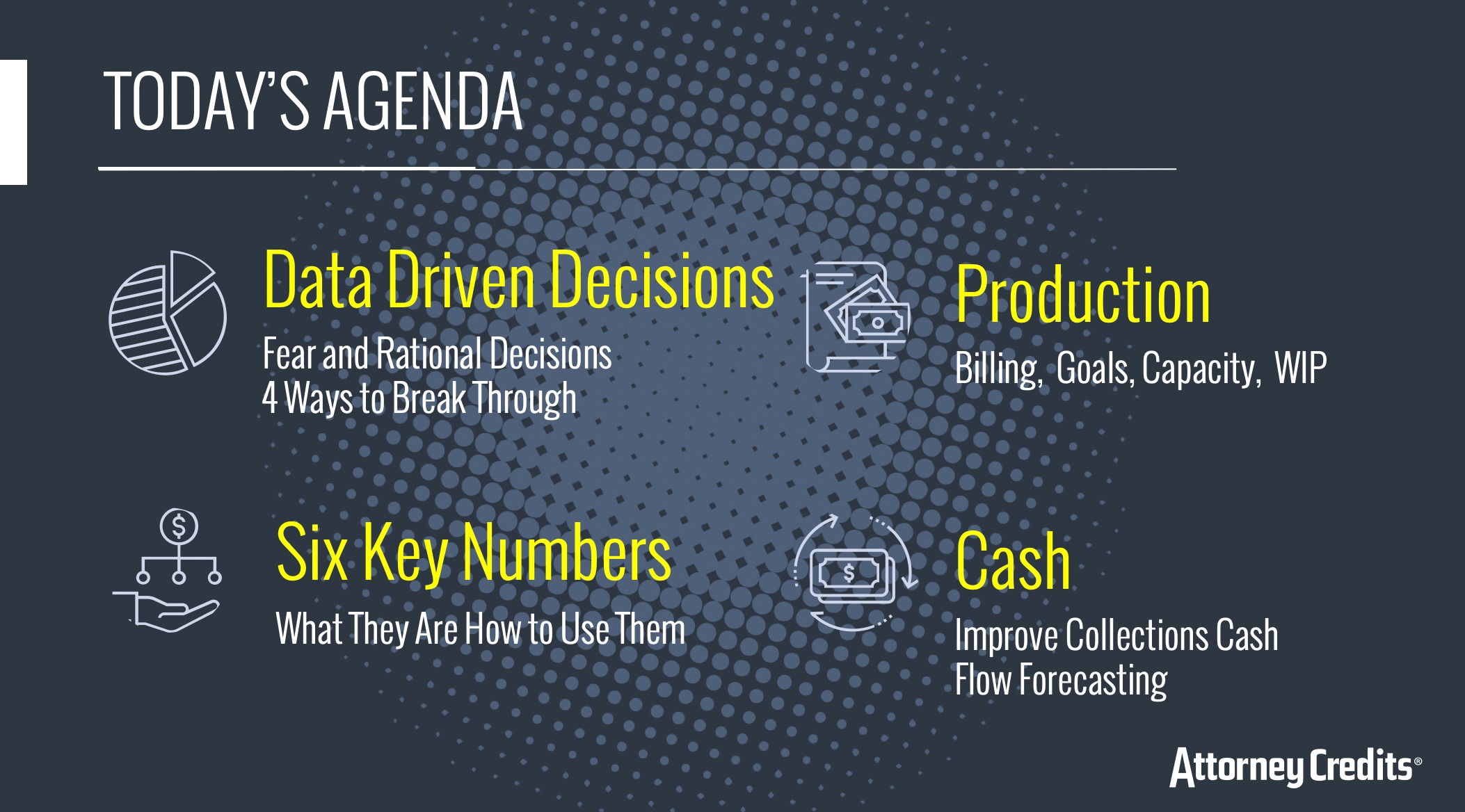 Have you ever re-financed your house and taken out $60,000… just to keep the doors open and the lights on at your law firm? How about maxing out every line of credit in your name – and your credit cards too? Have you applied for a credit card with a $900 limit… just to take a cash advance, max out the card and put all the money in the bank just to cover payroll?
Managing Your Law Firm

Does this sound all too familiar to you?  Too many attorneys around the country are having these same exact experiences on a daily basis. 
In law school we are taught about TROs & the FCRP – but not about ROI or WIPs.  In this incredibly practical CLE, Brooke Lively will show you how to make data driven decisions so you can efficiently manage your practice & team and run a profitable law firm.  Four key areas are discussed: using data driven decisions to run your firm, the six key metrics to monitor progress, tracking the work production of your attorneys and improving collection rates. To access the course please click here: End the Panic: Manage Your Practice, Team and Finances.
Brooke also addresses:

* Using WIP Reports (Work In Progress)

* Managing your attorneys

* Staff capacity vs. utilization

* Setting billing goals

* Decreasing turnover

* Billing grids

* Initial & evergreen retainers

* Using fee agreements
The Founder & President of Cathedral Capital, Brooke Lively specializes in helping attorneys turn their law firms into profitable businesses. An expert in law firm management & profitability, she is the author of the 6 Key Numbers book series.
This CLE is offered in:

* Alaska (AK)

* Arizona (AZ)

* California (CA)

* Connecticut (CT)

* District of Columbia (DC)

* Illinois (IL)

* Maryland (MD)

* Massachusetts (MA)

* Michigan (MI)

* Missouri (MO)

* New Hampshire (NH)

* New Jersey (NJ)

* New York (NY)

* North Dakota (ND)

* Pennsylvania (PA)

* South Dakota (SD)
Attorney Credits offers CLE for attorneys in Texas and around the country. For more information about CLE in Texas please click the following link: TX CLE.