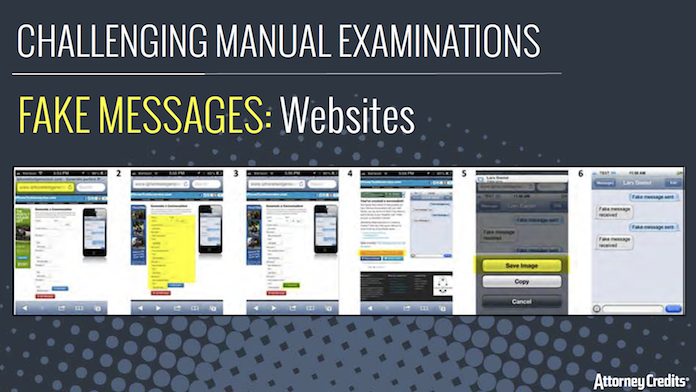 With billions of cell phones and apps out there, the amount of ESI generated by cell phones is overwhelming to many legal professionals. So overwhelming that many attorneys simply ignore smart phones, the best source of evidence because it tracks the user's life.
Cell Phone Forensics & Electronically Stored Evidence (ESI)

We get it – you are an attorney not a computer genius. But if you are ignoring evidence on smart phones and apps in your cases, you are ignoring a virtual treasure trove of electronic information that can greatly benefit your client at trial.
In this CLE program, highly-rated instructor Lars Daniel will use case examples from his digital forensics practice to highlight the proper way to forensically acquire cell phone evidence. Lars will mainly discuss the collection, acquisition, analysis and examination of electronic evidence on smartphones and challenging the evidence. To access the course please click here: Cell Phone Forensics for Legal Professionals.
Lars also address the following topics:

"Thumb forensics" by first responders

Internet searches & history
Call logs

Google is watching & listening

Video verification
Fakes messages are real
A spoofing (fake texts) case example
A digital forensics expert, Lars Daniel has attended over 250 hours of forensic training and has worked on over 500 cases involving murder, child pornography, terrorism, rape, kidnapping, intellectual property, fraud, wrongful death, employee wrongdoing and large scale e-discovery collections, among other case types.
This CLE course is offered in the following states:

Arizona (AZ)
California (CA)
Connecticut (CT)
District of Columbia (DC)

New York (NY)
North Dakota (ND)
Pennsylvania (PA)
South Dakota (SD)
Attorney Credits offers CLE for attorneys in Illinois and around the country.  Please contact us if you need assistance or information about MCLE in Illinois.