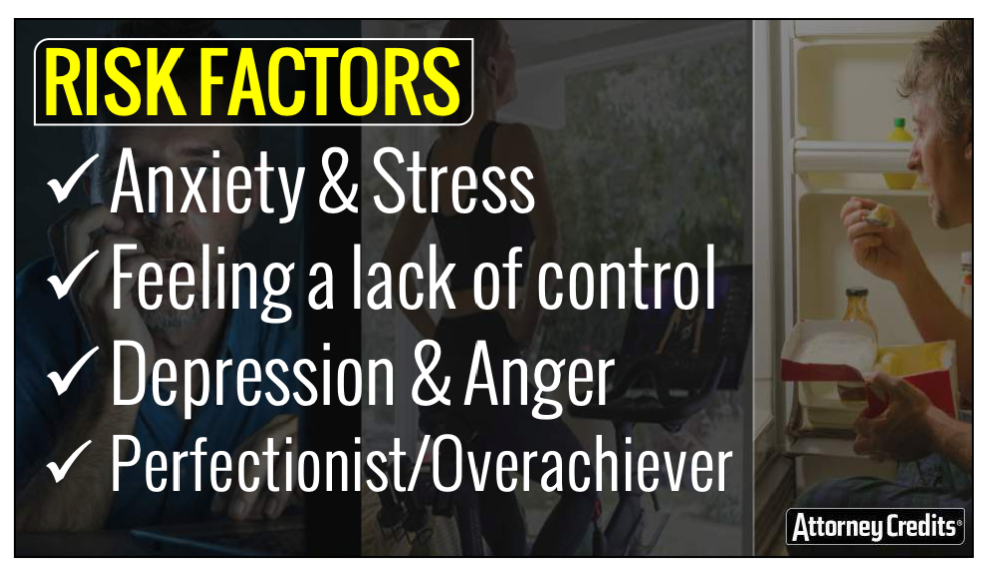 Attorneys & Mental Wellness
When is too much of a good thing… eating a great meal and getting in a good sweat at the gym are healthy, essential parts of many of our lives. But when there is never enough, it may be considered part of a compulsive, addictive or disordered behavior.
Eating, Sex and Exercise Disorders for Attorneys

As the Education and Outreach Coordinator for Lawyers Concerned for Lawyers, Brian Quinn has seen a significant increase in a number of disorders amongst attorneys during the pandemic – from compulsive sexual behavior disorder to anorexia.
In this eye-opening CLE, Brian Quinn will focus on symptoms, causes, early warning signs, physical & social impacts, easy well-being strategies for attorneys that work, barriers that prevent lawyers & judges from seeking help and a giving yourself a chance for success. To access the course please click here: When Enough Isn't Enough: Eating, Sex and Exercise Disorders.
Further Topics Discussed in this CLE:

* Anorexia Nervosa​

* Bulimia

* Binge Eating​

* Orthorexia

* Avoidant Restrictive Food Intake Disorder (ARFID)

* SCOFF

* Compulsive Sexual Behavior Disorder (CSBD)

* Compulsive Exercise Disorder
Brian S. Quinn of LCL
Prior to working for Lawyers Concerned for Lawyers (LCL), Brian S. Quinn was a sole practitioner for nearly 40 years and has also worked in the field of Alcohol and Drug Counseling at Mirmont Treatment Center and Malvern Institute in suburban Philadelphia.
This CLE course is offered in the following states:

* Alaska (AK)

* Alabama (AL)

* Arizona (AZ)

* California (CA)

* Connecticut (CT)

* District of Columbia (DC)

* Illinois (IL)

* Maryland (MD)

* Massachusetts (MA)

* Michigan (MI)

* Missouri (MO)

* New Hampshire (NH)

* New Jersey (NJ)

* New York (NY)

* North Dakota (ND)

* Pennsylvania (PA)

* South Dakota (SD)

* Vermont (VT)
Attorney Credits offers CLE for attorneys in IL and around the country. For more information about CLE in Illinois please click the following link: IL CLE.