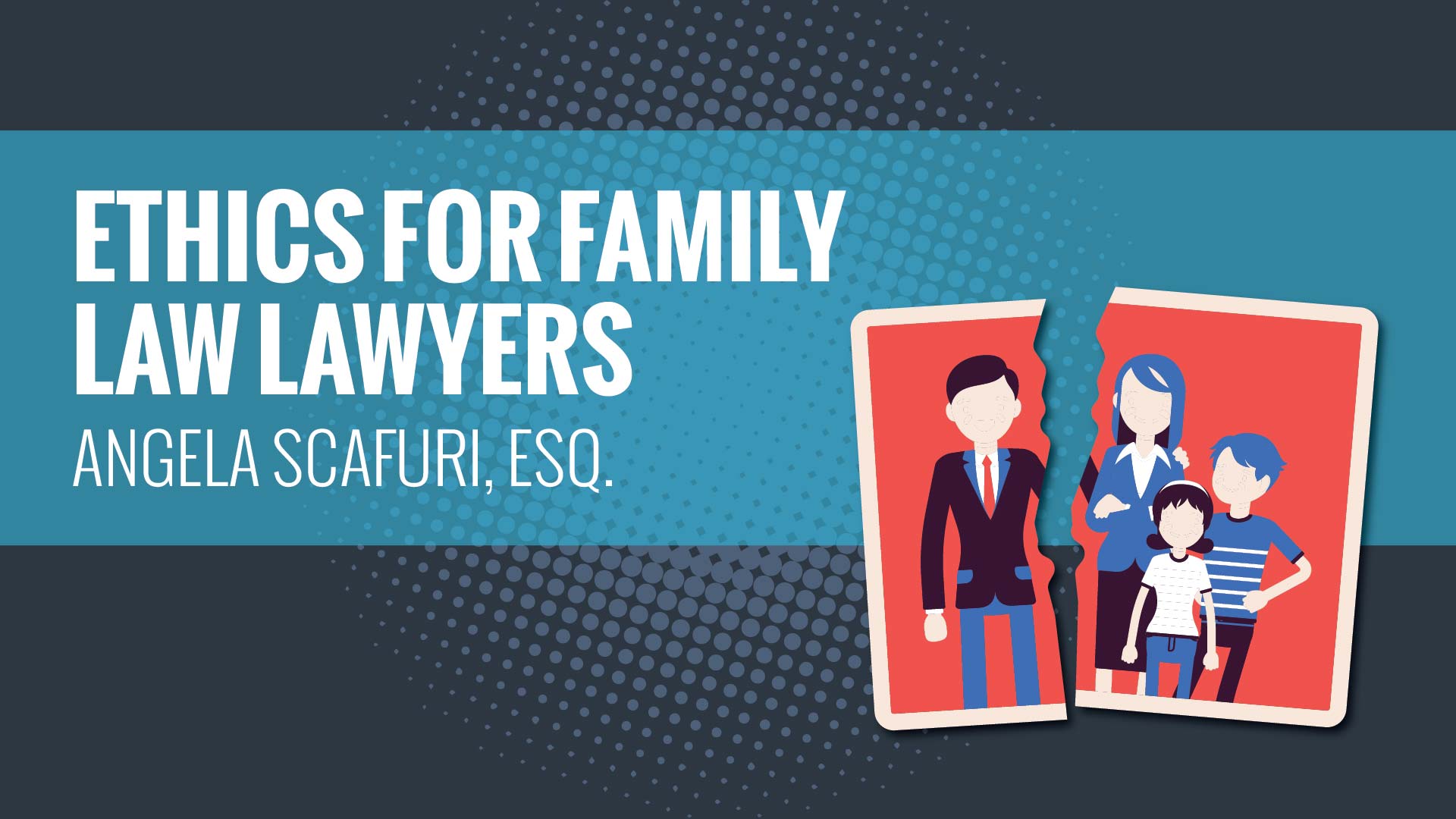 From clients that lie to you to directing your clients to delete damaging Facebook posts, family law attorneys must deal with highly emotional clients and navigate ethical pitfalls on a daily basis. In this CLE course, Angela Scafuri identifies the most frequent challenges that arise and provides practical guidance so you can steer clear of sanctions, suspension and malpractice lawsuits.
Ethics for Family Law Lawyers

Knowing the practical application of the ethical rules and making the right call can save you and your client a lot of headache and stress – and will keep you eligible to practice.
Angela's insights will help both new and seasoned family law practitioners to understand the contours of the attorney-client relationship, the problems that arise with difficult clients, client communications & confidentiality and issues involving experts. As many of our client's now live their lives Facebook, Twitter & Instagram, a substantial amount of time is spent covering the ethical implications of e-discovery and social media. Angela concludes by providing you a detailed checklist for discovery issues related to social media evidence. To access the course please click here: Ethics for Family Law Lawyers.
Angela will also provide tips & practice points for:

* Dealing with unrepresented parties

* Avoiding frivolous claims

* Reminding clients of your ethical duties

* The affirmative obligation to disclose certain facts

* The expert's retaining agreement

* Dealing with ESI

* Ethically obtaining evidence from social media websites

* Understanding how & where to look for evidence on Facebook
A shareholder at Wilentz, Goldman & Spitzer, Angela Scafuri routinely works with clients whose needs lie in all areas of matrimonial and family law. She focuses on divorce litigation, mediation & arbitration, alimony & child support, custody & parenting time issues, same-sex divorce & dissolution, high asset divorces and domestic violence matters.
This CLE course is offered in the following states:

* Alaska (AK)

* Arizona (AZ)

* California (CA)

* Connecticut (CT)

* District of Columbia (DC)

* Illinois (IL)

* Maryland (MD)

* Massachusetts (MA)

* Michigan (MI)

* Missouri (MO)

* New Hampshire (NH)

* New Jersey (NJ)

* New York (NY)

* North Dakota (ND)

* Pennsylvania (PA)

* South Dakota (SD)
Attorney Credits offers CLE for attorneys in California and around the country. For more information about CLE in California please click the following link: CA CLE.