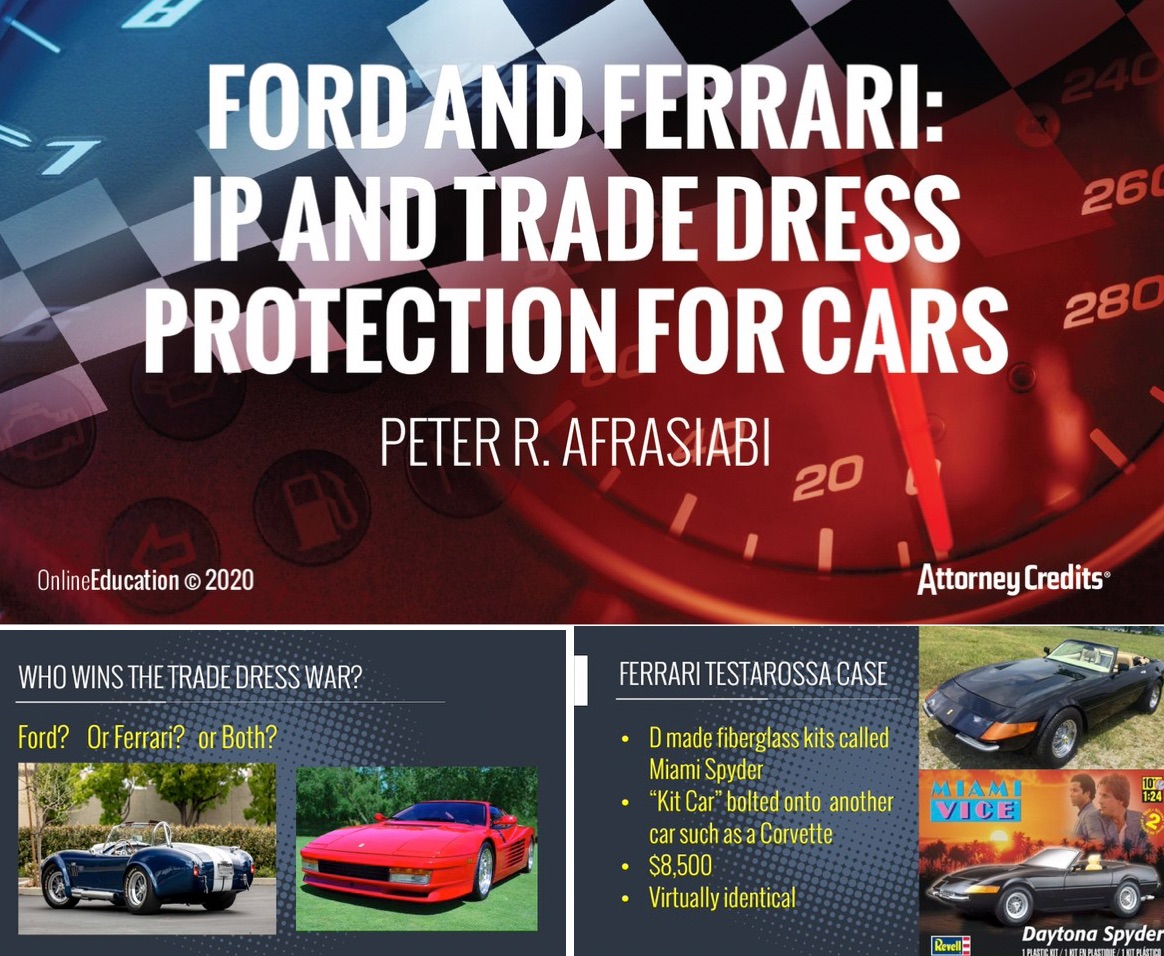 When car companies invest millions into the development and marketing of their iconic vehicles – only to see their goodwill & investment knocked off – then the IP lawyers are unleashed. In this eloquent & entertaining CLE program, Peter Afrasiabi details how the U.S. and European automotive industry has used trade dress law to protect their automobile designs and unique parts.
Cars & Trade Dress Protection

From Fords & Ferraris to Chevys & Lambos, Americans have a deep rooted love affair with their cars. Car companies spend millions on these iconic designs and parts – and trade dress law often protects that investment and the consumer.
Peter will mainly discuss the fundamentals of a trade dress blame, how you prove the three elements and practical takeaways from case law involving Hummers, Bentleys, Spyders, Porsches & Lamborghinis, kit cars and more. Throughout the course Peter also provides numerous practice tips for litigating claims of trade dress infringement about social media & survey evidence, expert & witness testimony and many other valuable points. To access the course please click here: Ford and Ferrari: IP and Trade Dress Protection for Cars.
Peter will also cover:

* The Lanham Act

* The nonfunctional requirement

* Inherently Distinctive

* Secondary Meaning

* Likelihood of Confusion (LOC)

* Trade dress in advertising
From battles with Madonna over the "Material Girl" brand to fair use disputes with the Eagles' Don Henley to protecting such iconic brands as Bettie Page in trademark and trade dress disputes, Peter R. Afrasiabi primarily handles copyright, trademark and entertainment disputes.
This CLE course is offered in the following states:

* Alaska (AK)

* Arizona (AZ)

* California (CA)

* Connecticut (CT)

* District of Columbia (DC)

* Illinois (IL)

* Maryland (MD)

* Massachusetts (MA)

* Michigan (MI)

* Missouri (MO)

* New Hampshire (NH)

* New Jersey (NJ)

* New York (NY)

* North Dakota (ND)

* Pennsylvania (PA)

* South Dakota (SD)

* Vermont (VT)
Attorney Credits offers CLE for attorneys in California and around the country. For more information about CLE in California please click the following link: CA CLE.