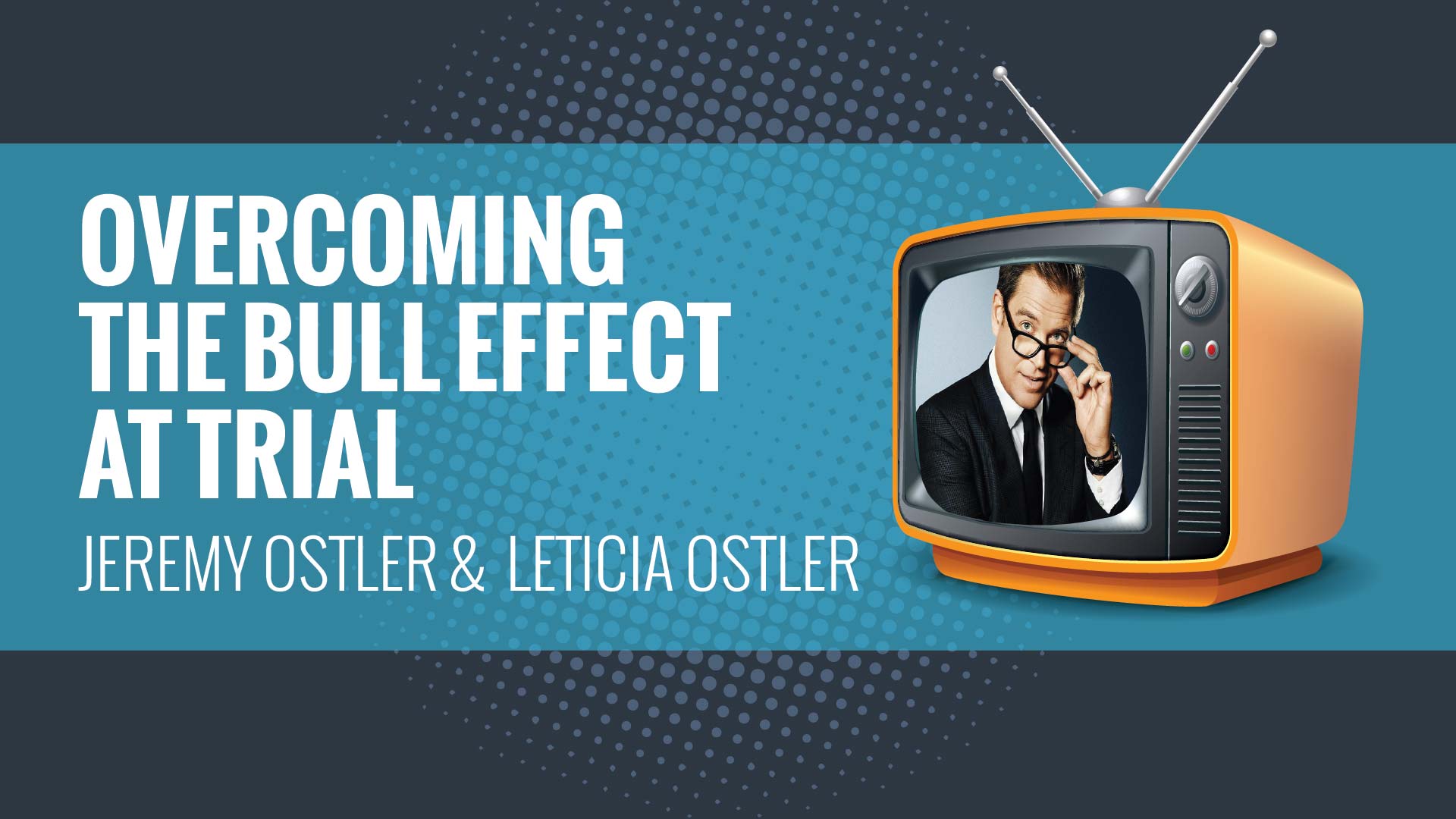 In the hit television show Bull, Dr. Jason Bull and his team of experts employ psychology, human intuition and high-tech data to help attorneys better understand jurors, witnesses and defendants. Dr. Bull's overall goal is to help attorneys construct effective narratives to connect with and persuade the jurors at trial.
Jurors & the "Bull" Effect

Unfortunately, many trial attorneys do not have several million dollars to hire anything like Dr. Bull's company. We are on our own to determine the best narrative and the best jurors.
What effect, if any, will the popular CBS TV drama have on your jurors? Trial consultants Jeremy Ostler and Leticia Ostler detail their experiences with the "Bull" effect at trial and show you how to better connect with the jury so you can get the best result for your clients. Jeremey and Leticia will mainly discuss how trial consultants assist attorneys with voir dire & trials, how to understand the psychology & decision making of the jurors, justice vs. emotion in the courtroom and overcoming the myths of legal TV shows. To access the course please click here: Overcoming The Bull Effect at Trial.
The following subjects are also covered:

* How the brain processes information

* The prefrontal cortex & the limbic brain

* Our adversarial system & emotions

* The concept of justice in the courtroom

* How to make the limbic system happy

* Inattentional blindness

* Telling stories to connect with emotional brain & the jury

* The Reptile Brain Strategy

* Using a shadow jury

* Feedback from judges
After working in the intelligence community primarily as an interrogator for over a decade, Jeremy Ostler now leverages his expertise to help trial lawyers and litigators prevail at trial. Trained in the effective use of neuroscience research in the courtroom, Leticia Oslter has over 20 years of experience as a litigation consultant.
This CLE course is offered in the following states:

* Alaska (AK)

* Arizona (AZ)

* California (CA)

* Connecticut (CT)

* District of Columbia (DC)

* Illinois (IL)

* Maryland (MD)

* Massachusetts (MA)

* Michigan (MI)

* Missouri (MO)

* New Hampshire (NH)

* New Jersey (NJ)

* New York (NY)

* North Dakota (ND)

* Pennsylvania (PA)

* South Dakota (SD)
Attorney Credits offers CLE for attorneys in California and around the country. For more information about CLE in California please click the following link: CA CLE.