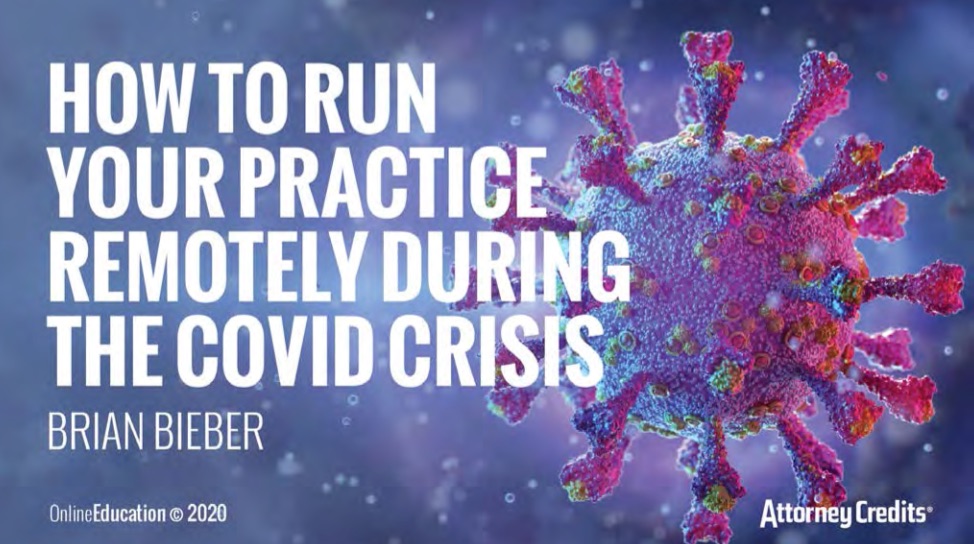 Welcome to our New Normal. The COVID-19 pandemic will not be going away any time soon. It's time to stop complaining – and start adapting, overcoming and prospering in our new socially distanced world.
Practicing Law in our COVID World

In these unprecedented times, everyone is just trying to figure it out. But like previous challenges you have faced in your life, common sense and your good judgement will guide you through the chaos.
Get out of bed before noon and get dressed, that's a good place to start – and remember… no Zoom meetings from your bed.  Brian Bieber, one of the top defense attorneys in Miami, provides highly practical advice on how you can continue to thrive in the face of various COVID restrictions. To access the course please click here: How to Run Your Practice Remotely During the COVID Crisis. 
Brian will mainly discuss these important topics:

* Maintaining "normal" functioning in this "new normal,"

* Your daily preparation

* Scheduling as usual

* Fulfilling clients' needs

* Dealing with opposing counsel

* The court systems

* Generating fees

* Dealing with the "changes"

* Personal perks & preferences

* Understanding this too shall pass
Brian H. Bieber is a shareholder with the Miami law firm of GrayRobinson, P.A. He is engaged in criminal and civil white collar defense litigation (both high profile and extremely confidential) for corporate executives, prominent clients, ordinary citizens, as well as small, midsized and major multimillion-dollar businesses.
This CLE course is offered in the following states:

* Alaska (AK)

* Arizona (AZ)

* California (CA)

* Connecticut (CT)

* District of Columbia (DC)

* Illinois (IL)

* Maryland (MD)

* Massachusetts (MA)

* Michigan (MI)

* Missouri (MO)

* New Hampshire (NH)

* New Jersey (NJ)

* New York (NY)

* North Dakota (ND)

* Pennsylvania (PA)

* South Dakota (SD)

* Vermont (VT)
Attorney Credits offers CLE for attorneys in New York and around the country. For more information about CLE in New York please click the following link: NY CLE.