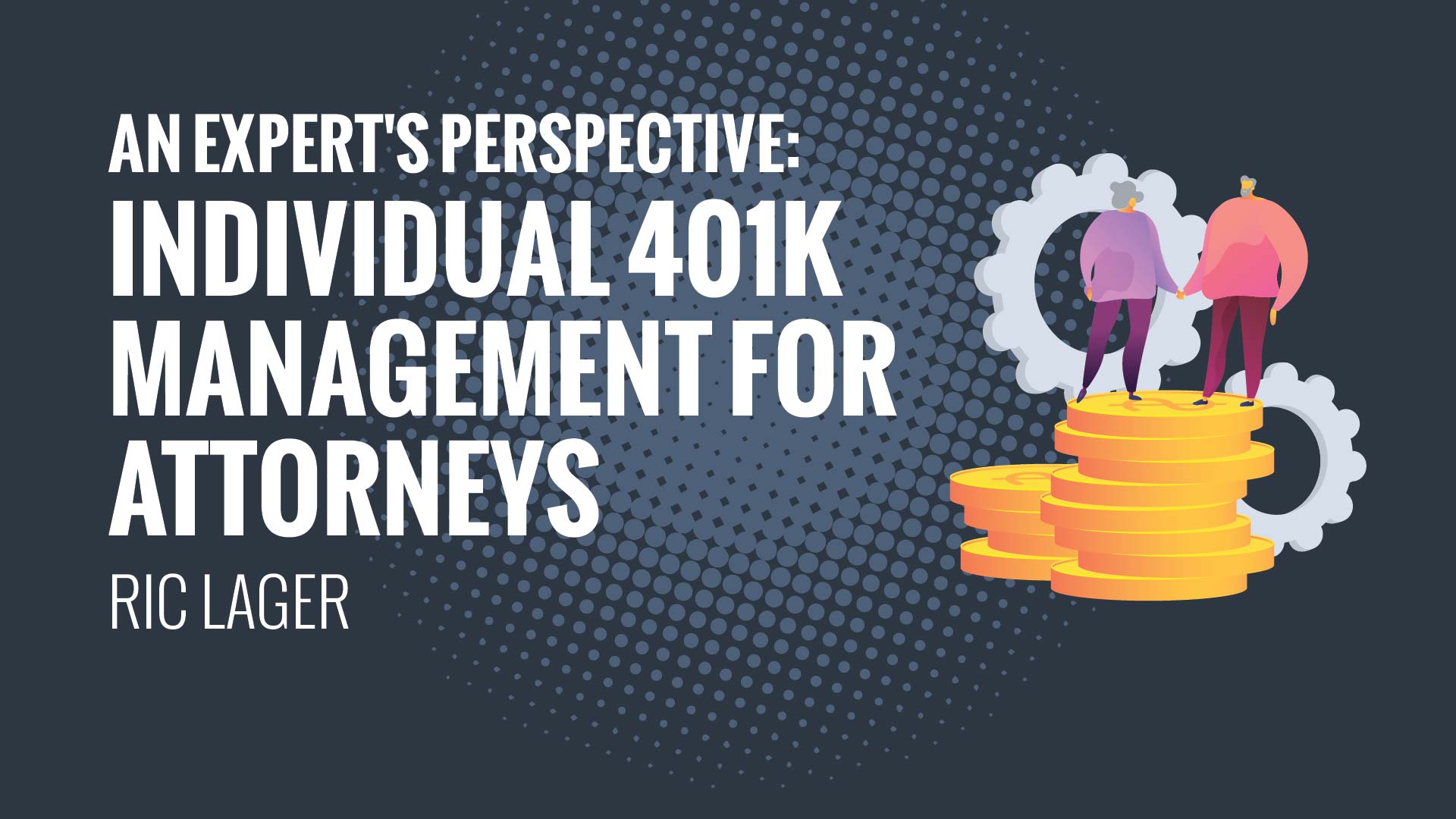 Despite being armed with the most current information on buy-and-holds, asset allocation, diversification and target terms, the overriding investment management problem that plagues almost all attorneys can be summed up by the oft-heard phrase: "What do I buy?"
Individual 401k Management for Attorneys.

As attorneys we are high-achievers and problem-solvers – we meet challenges and find creative solutions for our clients on a daily basis. However, we're not Warren Buffet when it comes to investing for retirement.
A Registered Investment Adviser, Ric Lager works with attorneys and law firms to help maximize the value of their retirement investments. In this CLE he will primarily address: selecting a plan, simple IRAs vs. SEPs vs. individual 401(k) plans, the challenges legal professionals face when investing and 401(k) management pitfalls & practice points. To access the course please click here: An Expert's Perspective: Individual 401k Management for Attorneys.
Ric will also cover:

* Common decision-making points

* SPIVA & mutual fund analysis tool

* Tracking stats & results

* Statistical lessons from March Madness

* Ranking portfolios

* 401(k) fees

* Portfolio rebalancing

* Insurance and the cost of bad investments
Ric Lager is president of Lager & Company, Inc. For the last fifteen years Lager & Company, Inc. has specialized in advising retirement plan participants to maximize the value of their retirement investments.
This CLE course is offered in the following states:

* Alaska (AK)

* Arizona (AZ)

* California (CA)

* Connecticut (CT)

* District of Columbia (DC)

* Illinois (IL)

* Maryland (MD)

* Massachusetts (MA)

* Michigan (MI)

* Missouri (MO)

* New Hampshire (NH)

* New Jersey (NJ)

* New York (NY)

* North Dakota (ND)

* Pennsylvania (PA)

* South Dakota (SD)
Attorney Credits offers CLE for attorneys in Illinois and around the country. For more information about CLE in Illinois please click the following link: IL CLE.