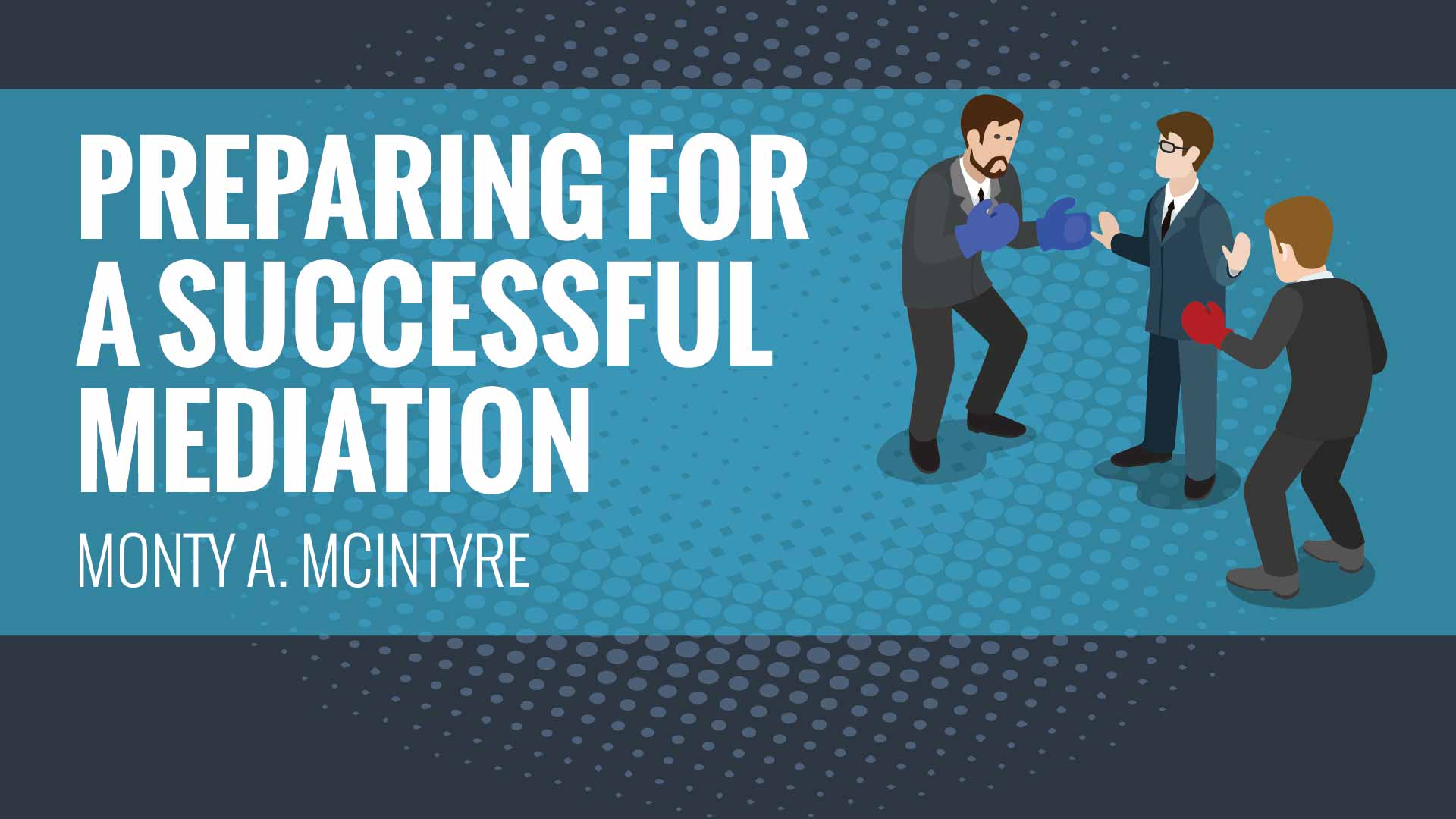 With the cost of litigation and the current backlog in the courts, mediation has become the main path for redress for many aggrieved parties. But should you approach a mediation like you were headed to court? What are the steps you can take to get the most successful outcome for your client?
Preparing for Mediation

As a mediator Monty connects with people, listens actively and uses both facilitative and evaluative approaches to help lawyers and their clients settle cases. In this CLE course he will teach you the fine points of mediation so you can get the best result for your clients.
After trying more than 100 cases, Monty A. McIntyre is a now a mediator, arbitrator & discovery referee. In this CLE course he shares his insights into preparing for a successful mediation. He mainly discusses important points to consider prior to the mediation, pitfalls to avoid, techniques & key points to employ during the mediation and final considerations before concluding. To access the course please click here: Preparing for a Successful Mediation.
Additional Topics:

* The essence of your case

* The cost & stress of litigation

* Sitting down with clients

* Brevity in the brief

* Avoiding initial high numbers, apologies

* Flexibility

* Joint meetings

* Bracketing

* Settlement offers

* Terms to consider at the conclusion

* Payment plans

* Stipulations for settlement
An award winning trial attorney, mediator, arbitrator & discovery referee, Monty A. McIntyre has nearly four decades of legal experience. As a mediator his mission is to bring peace into the lives of people by excellently helping them resolve disputes.
This CLE course is offered in the following states:

* Alaska (AK)

* Arizona (AZ)

* California (CA)

* Connecticut (CT)

* District of Columbia (DC)

* Illinois (IL)

* Maryland (MD)

* Massachusetts (MA)

* Michigan (MI)

* Missouri (MO)

* New Hampshire (NH)

* New Jersey (NJ)

* New York (NY)

* North Dakota (ND)

* Pennsylvania (PA)

* South Dakota (SD)
Attorney Credits offers CLE for attorneys in California and around the country. For more information about CLE in California please click the following link: CA CLE.