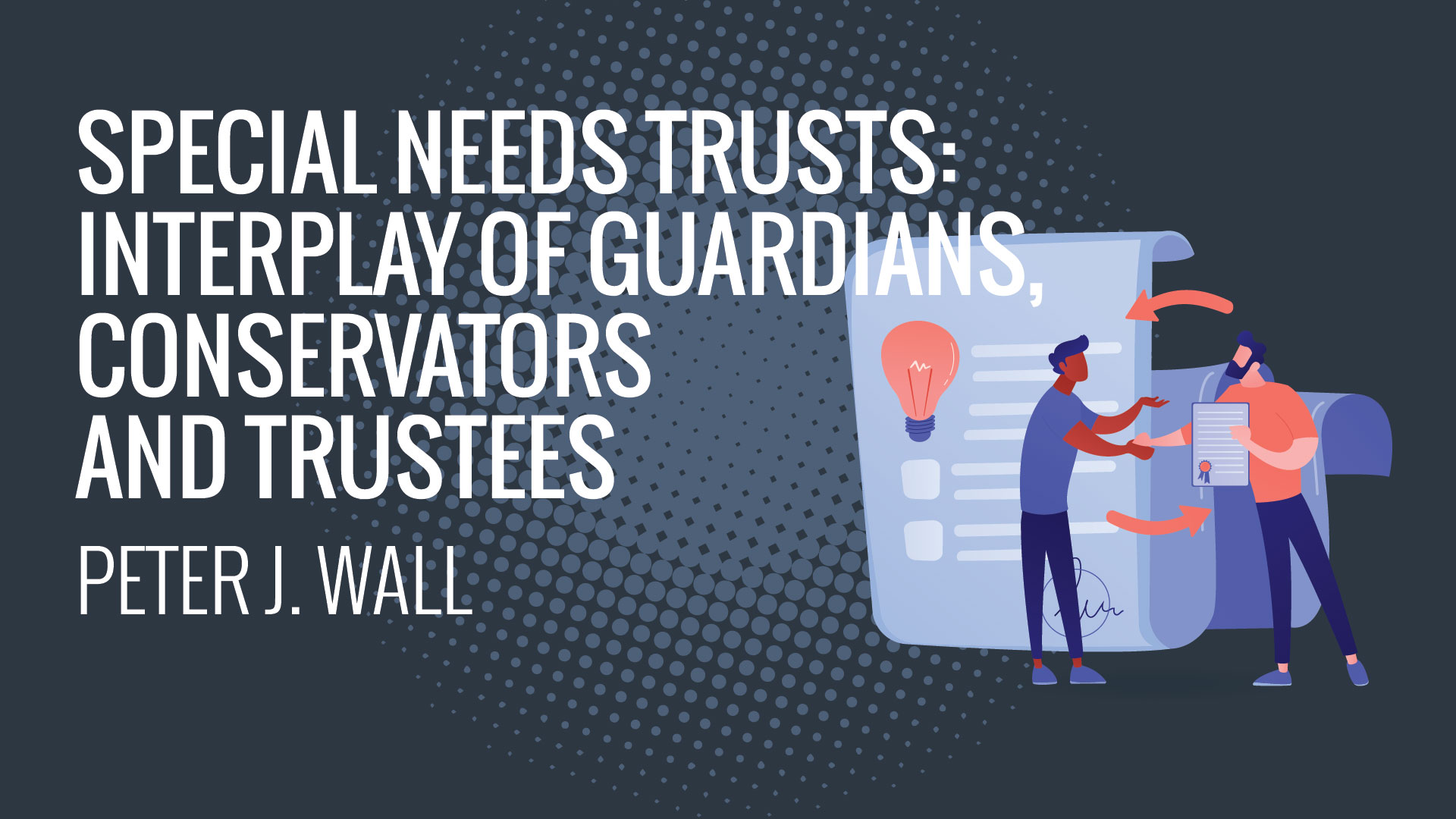 From dealing with multiple decision makers – to sorting through multiple states' regulations – complexities abound with Special Needs Trusts (SNTs)… and then there's dealing with guardians, conservators & trustees.
Special Needs Trusts

Focusing on the Duty of Loyalty, Peter J. Wall will teach attorneys about the pitfalls trustees face when administering special needs trusts.
In this presentation, Peter J. Wall will teach attorneys about the pitfalls trustees face when administering SNTs by highlighting the intricacies of working with other fiduciaries while administering trust vehicles to maximize synergy and efficiency between all the parties involved. Peter will primarily discuss each party's roles and duties, the capacity in which each party acts, The ABLE Act and relationship Building with Beneficiaries. To access the course please click here: Special Needs Trusts: Interplay of Guardians, Conservators and Trustees.
Also discussed:

* The Duty of Loyalty

* The types of people that need SNTs

* First & third party SNTs

* Protection arrangements

* Case law

* Outside resources to consider

* Initial & periodic projections

* Common enemies & lingo
The Director of Fiduciary Services at True Link Financial, Peter J. Wall is well known throughout the country for his deep understanding of special needs and elder law issues. Peter has over 18 years of trust administration experience at national bank trust companies.
This CLE is offered in:

* Alaska (AK)

* Arizona (AZ)

* California (CA)

* Connecticut (CT)

* District of Columbia (DC)

* Illinois (IL)

* Maryland (MD)

* Massachusetts (MA)

* Michigan (MI)

* Missouri (MO)

* New Hampshire (NH)

* New Jersey (NJ)

* New York (NY)

* North Dakota (ND)

* Pennsylvania (PA)

* South Dakota (SD)
Attorney Credits offers CLE for attorneys in Texas and around the country. For more information about CLE in Texas please click the following link: TX CLE.