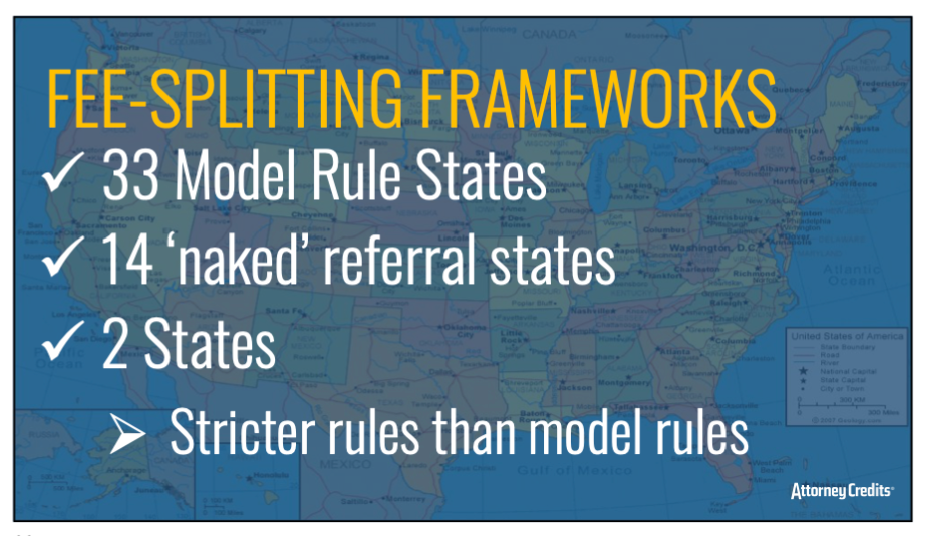 Referral Fees Are NOT Unethical
Misconceptions abound when it comes to referral fees.
The Myths of Referral Fees

Referral fees are unethical. My state prohibits referral fees. Such fees must be based on 'work performed' and are only proper for contingency matters. NOT!!!
The Ethics of Referral Fees: From California to New York
The reality is that numerous state bars have noted that fee sharing is not only ethical – but it actually leads to better outcomes for clients. Come get cozy with Curt Brown and the rules of professional conduct as he surveys the regulatory frameworks of the ABA and all 50 states so you know the ethical landscape when referring or accepting cases from fellow attorneys in your state and around the country. Curt will primarily discuss common misconceptions, ABA Rule 1.5 and the ethical approach states have taken to promote referrals amongst attorneys. To access this course please click here: The Ethics of Referral Fees.
Referral Fees CLE Topics:

* Best practices for handling referral fees

* 4 common myths

* Joint responsibility

* Disclosures

* "Reasonable fees"

* Ongoing responsibilities after referring a matter

* Pure referral states

* Crossing state lines

* International issues

* Dealing with nonlawyer companies & law firms based abroad
Curt Brown, Esq. – Litigator & Chief of Legal Innovation @ Overture Law
Curt Brown is Co-Founder and Chief of Legal Innovation at Overture and also serves as Overture's General Counsel. In 2023, he was named a Rising Star by Super Lawyers.
This CLE course is offered in the following states:

* Alaska (AK)

* Alabama (AL)

* Arizona (AZ)

* California (CA)

* Connecticut (CT)

* District of Columbia (DC)

* Illinois (IL)

* Maryland (MD)

* Massachusetts (MA)

* Michigan (MI)

* Missouri (MO)

* New Hampshire (NH)

* New Jersey (NJ)

* New York (NY)

* North Dakota (ND)

* Pennsylvania (PA)

* South Dakota (SD)

* Vermont (VT)
California CLE
Attorney Credits offers CLE for attorneys in California and around the country. For more information about CLE in California please click the following link: CA CLE.