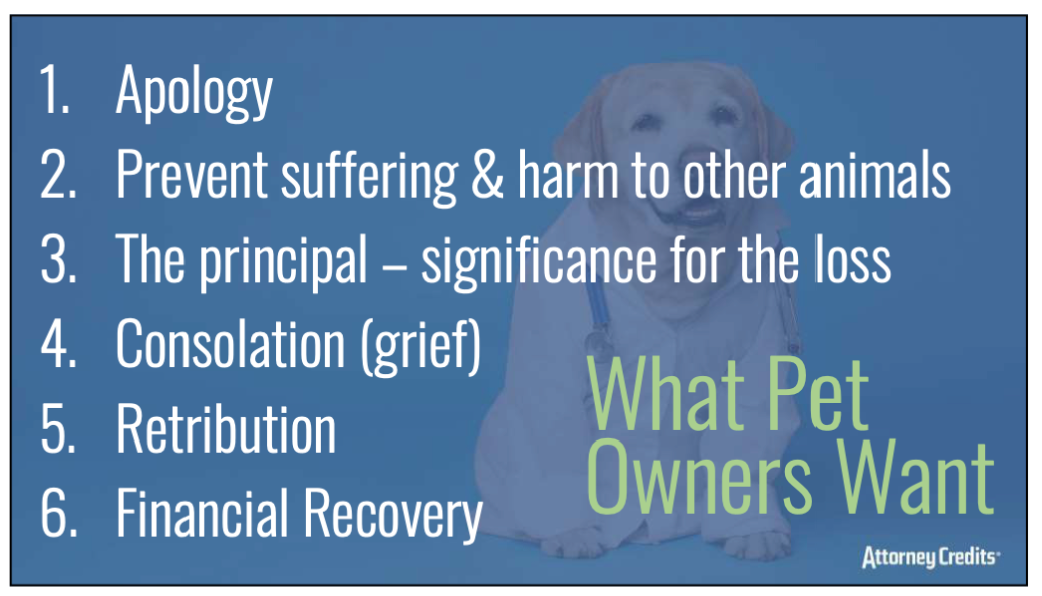 Veterinary Malpractice for Attorneys
Cheryl Nolan is an animal law lawyer who helps aggrieved pet owners. She handles cases involving dogs, cats, horses, birds… and even hamsters.
From Hamsters to Horses: Veterinary Malpractice

The vet diagnoses your dog with lymphoma in her hind leg and recommends amputation.  The vet also explained that your dog has glaucoma but it's not a big deal. One week later the dog's eyes are removed due to the glaucoma and the dog has stopped eating due to the stress. After seeing 14 different clinicians in 3 weeks your dog dies. What do you do?
Veterinary Malpractice: Liability & Using Small Claims Court
In this Veterinary Malpractice CLE she will discuss the hallmarks of dog & animal law, types of claims, theories of liability, small claims vs. the veterinarian board and case development. Cheryl will conclude by providing a detailed analysis of two actual case examples where she helped pet owners. To access the course please click here: Veterinary Malpractice for Pets and their Humans.
In this CLE:

* Animal law practice areas

* Private equity & veterinarians

* The roots of animal law

* What pet owners want

* Handling animal disputes with alternative dispute resolution (ADR)

* Debra Vey Voda-Hamilton's mediation practice

* Breach of contract

* Bailment

* Malpractice & negligence

* Conversion

* Consumer protections

* Fraud & misrepresentation

* Deceptive business practices

* Market value

* Replacement value

* Special & unique value

* Monetizing bowser

* Utilizing expert witnesses to guide the case
Cheryl Nolan – Animal Law Lawyer
Cheryl Nolan decided on a career in law to help others and be of service. After 23 years promoting the interests of the disadvantaged and equal access to justice, Cheryl now runs an animal-centered law practice.
This CLE course is offered in the following states:

* Alaska (AK)

* Alabama (AL)

* Arizona (AZ)

* California (CA)

* Connecticut (CT)

* District of Columbia (DC)

* Illinois (IL)

* Maryland (MD)

* Massachusetts (MA)

* Michigan (MI)

* Missouri (MO)

* New Hampshire (NH)

* New Jersey (NJ)

* New York (NY)

* North Dakota (ND)

* Pennsylvania (PA)

* South Dakota (SD)

* Vermont (VT)
Illinois CLE
Attorney Credits offers CLE for attorneys in Illinois and around the country. For more information about CLE in Illinois please click the following link: IL CLE.