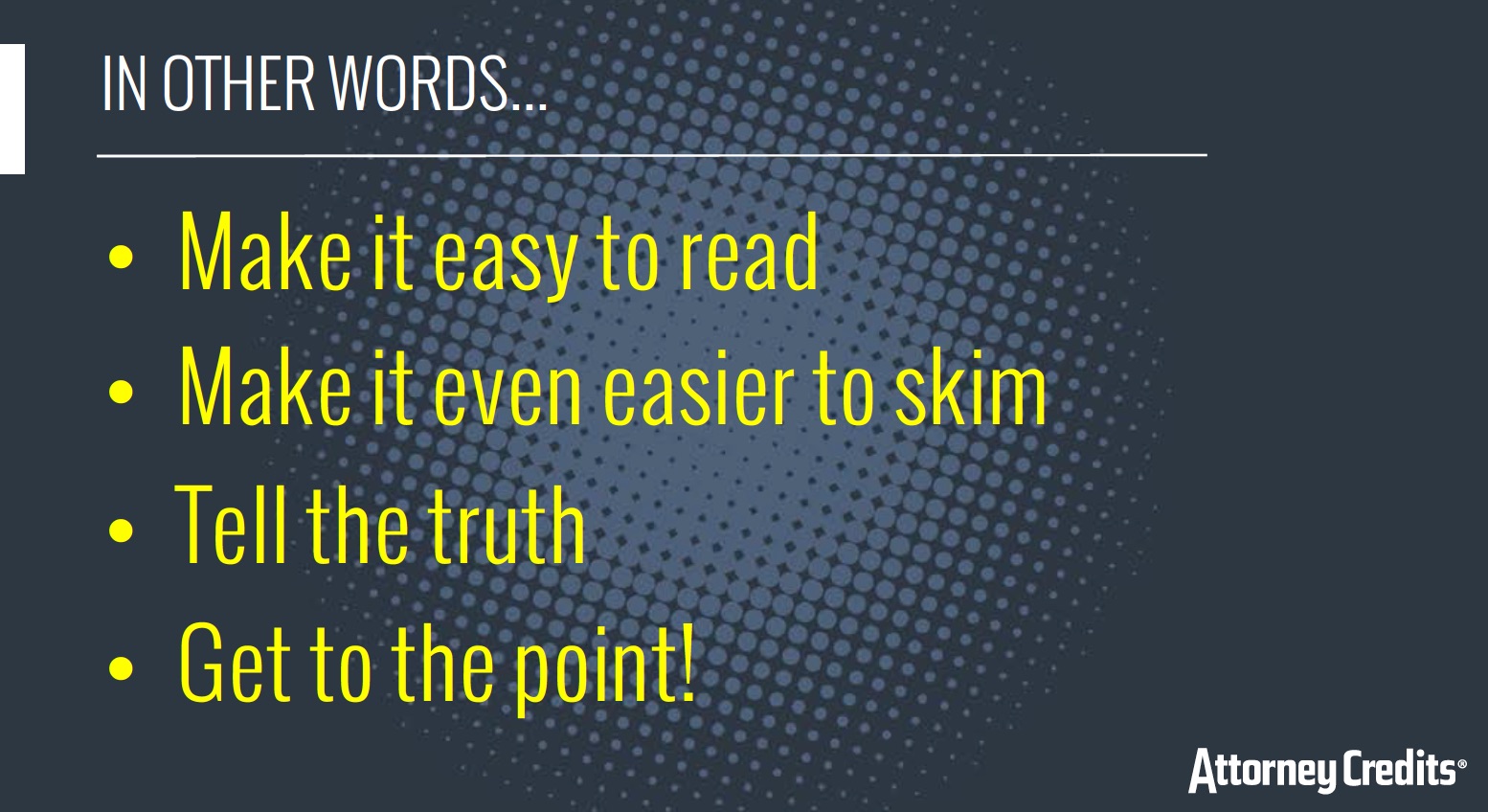 The trial attorney that tells the better story and persuades both the judge and jury will win the day and the trial for their client. Unfortunately, too many attorneys think that persuasion means packing their legal briefs with every known fact and legal argument that can be formulated.
Writing for the Trial Court

Brevity is your best friend when writing for the trial judge.
Randall Christison will teach you how to fine tune your legal writing by providing examples & exercises, illustrating common legal writing mistakes and concluding with tips for persuading judges. You will learn how to craft a succinct written argument, recognize over-wordy & succinct written arguments, present a written argument using effective topic headings and present a written argument using effective fact statements. To access the course please click here: Writing for the Court: Persuading Judges in Fewer than 500 Words.
Additional topics covered:

* How to start

* Using effective introductions

* The first page wins it all

* The introduction

* Presenting the issue

* Using syllogism

* The bold synopsis

* Headings

* Stating the legal rule

* Your audience

* What the court reads

* Pitfalls

* Judicial pet peeves.
Randall Christison has practiced law for over 35 years, focusing on civil litigation and on training lawyers. He has handled scores of trials, around 200 appeals and has been AV-rated for 25 years.
This CLE course is offered in the following states:

* Alaska (AK)

* Arizona (AZ)

* California (CA)

* Connecticut (CT)

* District of Columbia (DC)

* Illinois (IL)

* Maryland (MD)

* Massachusetts (MA)

* Michigan (MI)

* Missouri (MO)

* New Hampshire (NH)

* New Jersey (NJ)

* New York (NY)

* North Dakota (ND)

* Pennsylvania (PA)

* South Dakota (SD)
Attorney Credits offers CLE for attorneys in Illinois and around the country. For more information about CLE in Illinois please click the following link: IL CLE.