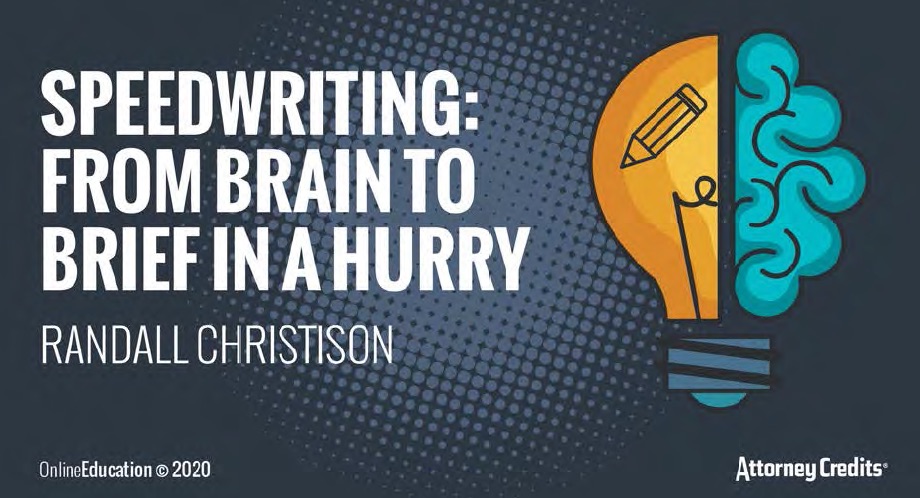 When you sit down to start writing… do you stare out the window for an hour before putting pen to paper? Are your legal briefs… anything but brief? Does your legal writing meander and lack focus – and do you tend to focus on way too many points to see what sticks?
Speedwriting Techniques for Legal Briefs

Randall Christison will show you how to speed up your legal writing process while clarifying even complex legal and factual matters.
If this sounds like your legal writing style, then this is the CLE course for you! Randall will mainly discuss speedwriting tips, solutions & approaches to streamline your legal writing and the main speedwriting methods. This CLE course uses techniques developed by nonlawyer professional writers to enable legal writers to take complex, multi-issue matters and organize them quickly, logically and systematically. To access the course please click here: Speedwriting: From Brain to Brief in a Hurry.
Additional topics:

Freewriting

Clustering

Story line

Problems lawyers encounter with writing

Dealing with writer's block

The left & right brain

Moving from creative to rational and argument patterns
Randall Christison has practiced law for over 35 years, focusing on civil litigation and on training lawyers. He has handled scores of trials, around 200 appeals, and has been AV-rated for 25 years.
This CLE course is offered in the following states:

* Alaska (AK)

* Arizona (AZ)

* California (CA)

* Connecticut (CT)

* District of Columbia (DC)

* Illinois (IL)

* Maryland (MD)

* Massachusetts (MA)

* Michigan (MI)

* Missouri (MO)

* New Hampshire (NH)

* New Jersey (NJ)

* New York (NY)

* North Dakota (ND)

* Pennsylvania (PA)

* South Dakota (SD)
Attorney Credits offers CLE for attorneys in New York and around the country. For more information about CLE in New York please click the following link: NY CLE.