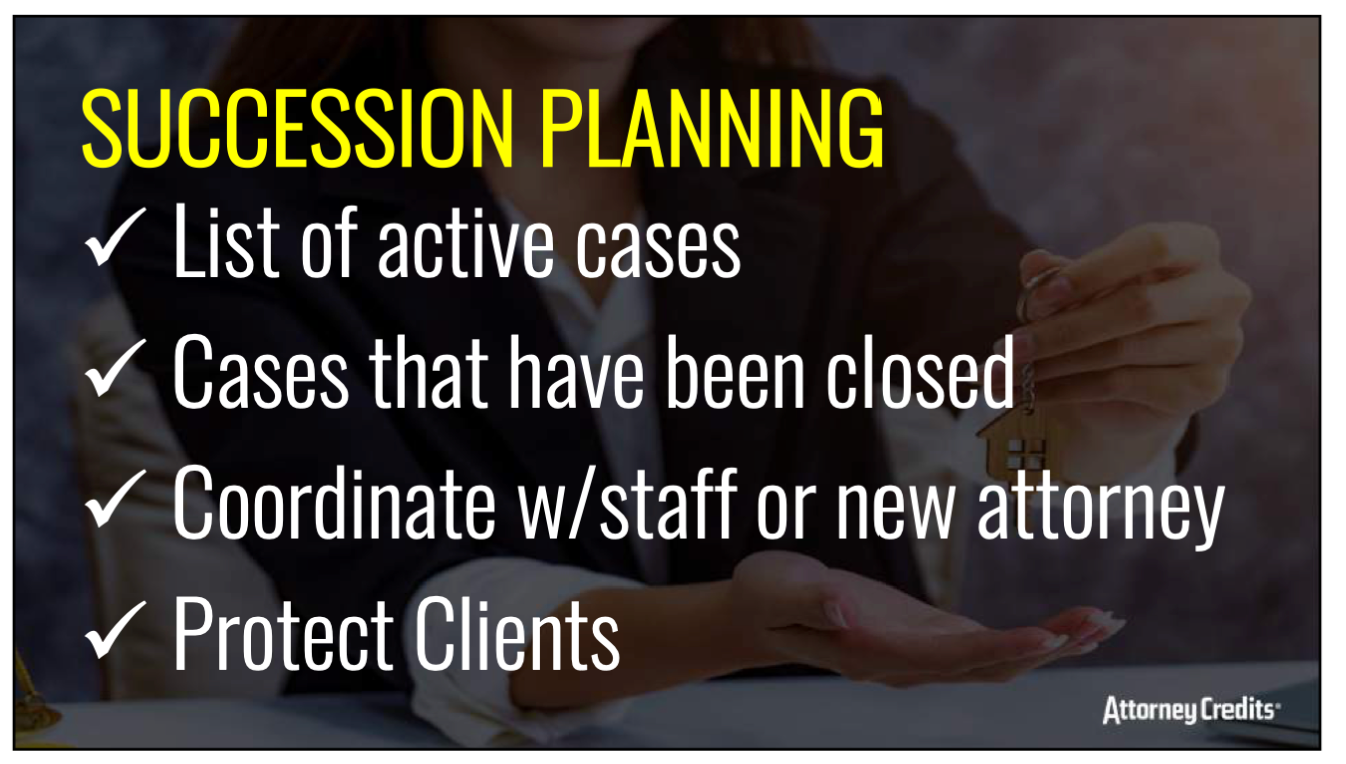 Succession Planning for Solos + Small Firms
As a solo & small firm attorney, you have a LOT on your plate. Unfortunately, due to busy schedules and incredible client demands, many solo attorneys simply fail to think about succession planning in the case of death or incapacity.
Incapacity, Death… and Your Ethical Obligations Regarding Your Law Firm

This CLE program taught by Ritzel Starleigh Ngo will provide legal practitioners with a practical framework of an attorney's ethical obligations to the law firm and clients in the case of the unforeseen.
Ethical Succession Planning for Law Firms
Using the ABA Model Rules as the foundation for the course, Ritzel speaker will discuss pertinent ethical topics when it comes to transferring ownership of your law firm due to death, disability, disappearance and disbarment. Ritzel will conclude with hypotheticals meant to instruct attorneys how to satisfy their ethical duties when confronted with common situations involving capacity. To access the course please click here: Succession Planning for Law Firms: Ethically Dealing with Death or Incapacity.
In this CLE Ritzel will:

* Determining incapacity

* Primary components of an ethical law firm succession plan

* Rules regarding selling or shutting down a law practice

* Attorney-client privilege & confidentiality

* Protecting confidential client information

* Fiduciary duties owed to clients

* Conflicts of interest

* Dealing with client trust accounts
Ritzel Starleigh Ngo – Family Law Attorney & Succession Planning
A solo practitioner, Ritzel Starleigh Ngo is based in Camarillo, California. She is highly experienced in contentious dissolutions, parentage matters, child custody & visitation and spousal & child support.
This CLE course is offered in the following states:

* Alaska (AK)

* Alabama (AL)

* Arizona (AZ)

* California (CA)

* Connecticut (CT)

* District of Columbia (DC)

* Illinois (IL)

* Maryland (MD)

* Massachusetts (MA)

* Michigan (MI)

* Missouri (MO)

* New Hampshire (NH)

* New Jersey (NJ)

* New York (NY)

* North Dakota (ND)

* Pennsylvania (PA)

* South Dakota (SD)

* Vermont (VT)
California CLE
Attorney Credits offers CLE for attorneys in California and around the country. For more information about CLE in California please click the following link: CA CLE.