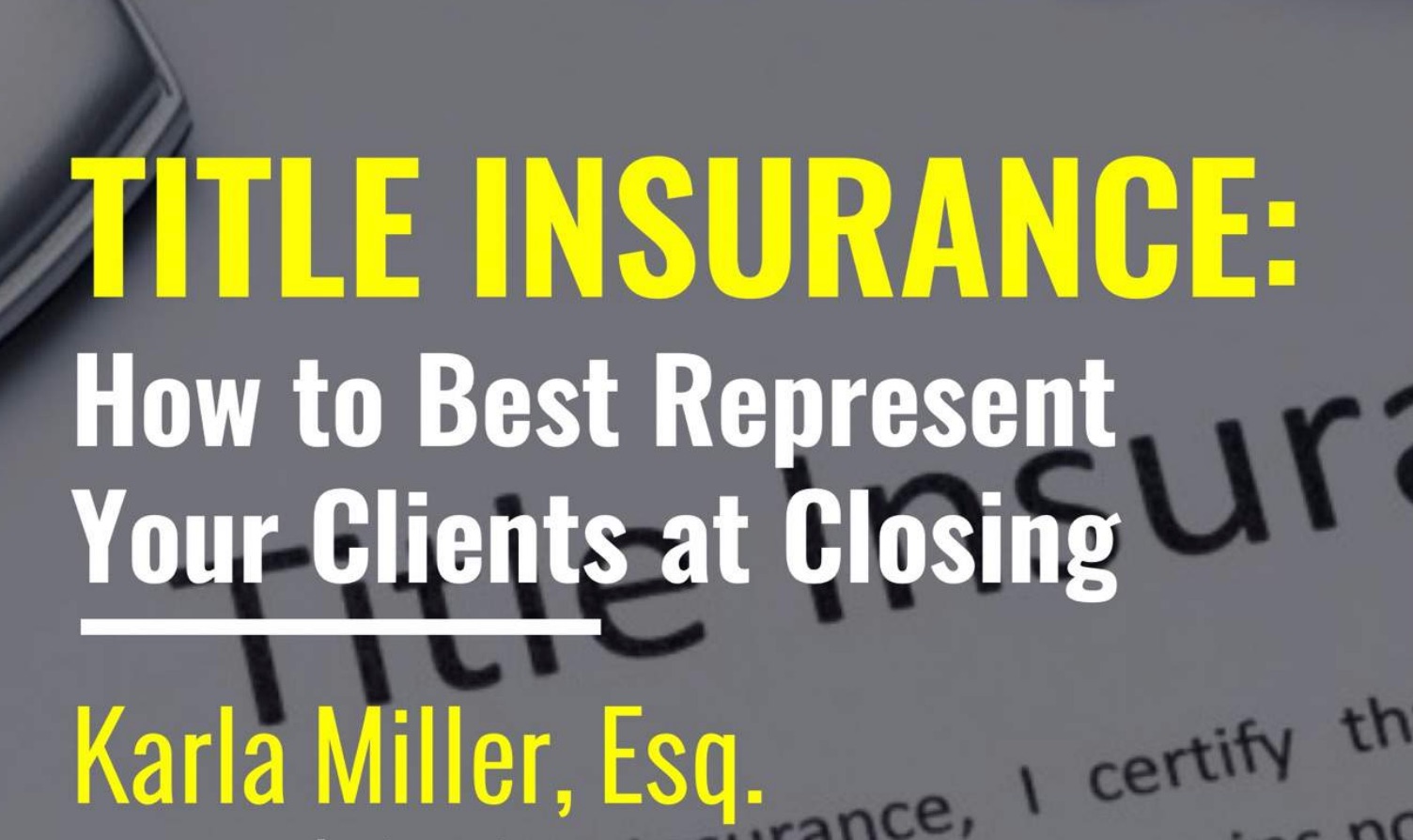 Many clients and even attorneys fail to grasp the full extent of what title insurance covers – OR even more importantly what it doesn't cover. The failure to fully understand the ramifications at closing could subject attorneys to malpractice.
Title Insurance: Tips for Attorneys at Closing

This CLE will provide a high level overview of title insurance and provides tips for attorneys to best represent clients at closing.
Karla Miller will point out potential pitfalls & liabilities for both clients & attorneys in this practical and informative CLE. Karla will mainly cover the scope of title insurance coverage, accounting for emergency repairs, potential issues with the survey reading, exemptions to coverage, dealing with easements and problems that can stem from the deed. To access the course please click here: Title Insurance: How to Best Represent Your Clients at Closing.
Additional Topics:

* Certificate of Occupancy

* Transfer & mansion tax

* Covenants & restrictions

* Liens & encumbrances

* Endorsements

* Issue arising from LLCs & Partnerships
Featuring well over thirty years of real-world title experience, Karla's consummate legal erudition and sagacious knowledge adds to Riverside's sterling reputation as an undisputed leader in the title industry.
This CLE course is offered in the following states:

* Alaska (AK)

* Alabama (AL)

* Arizona (AZ)

* California (CA)

* Connecticut (CT)

* District of Columbia (DC)

* Illinois (IL)

* Maryland (MD)

* Massachusetts (MA)

* Michigan (MI)

* Missouri (MO)

* New Hampshire (NH)

* New Jersey (NJ)

* New York (NY)

* North Dakota (ND)

* Pennsylvania (PA)

* South Dakota (SD)

* Vermont (VT)
Attorney Credits offers CLE for attorneys in NY and around the country. For more information about CLE in New York please click the following link: NY CLE.