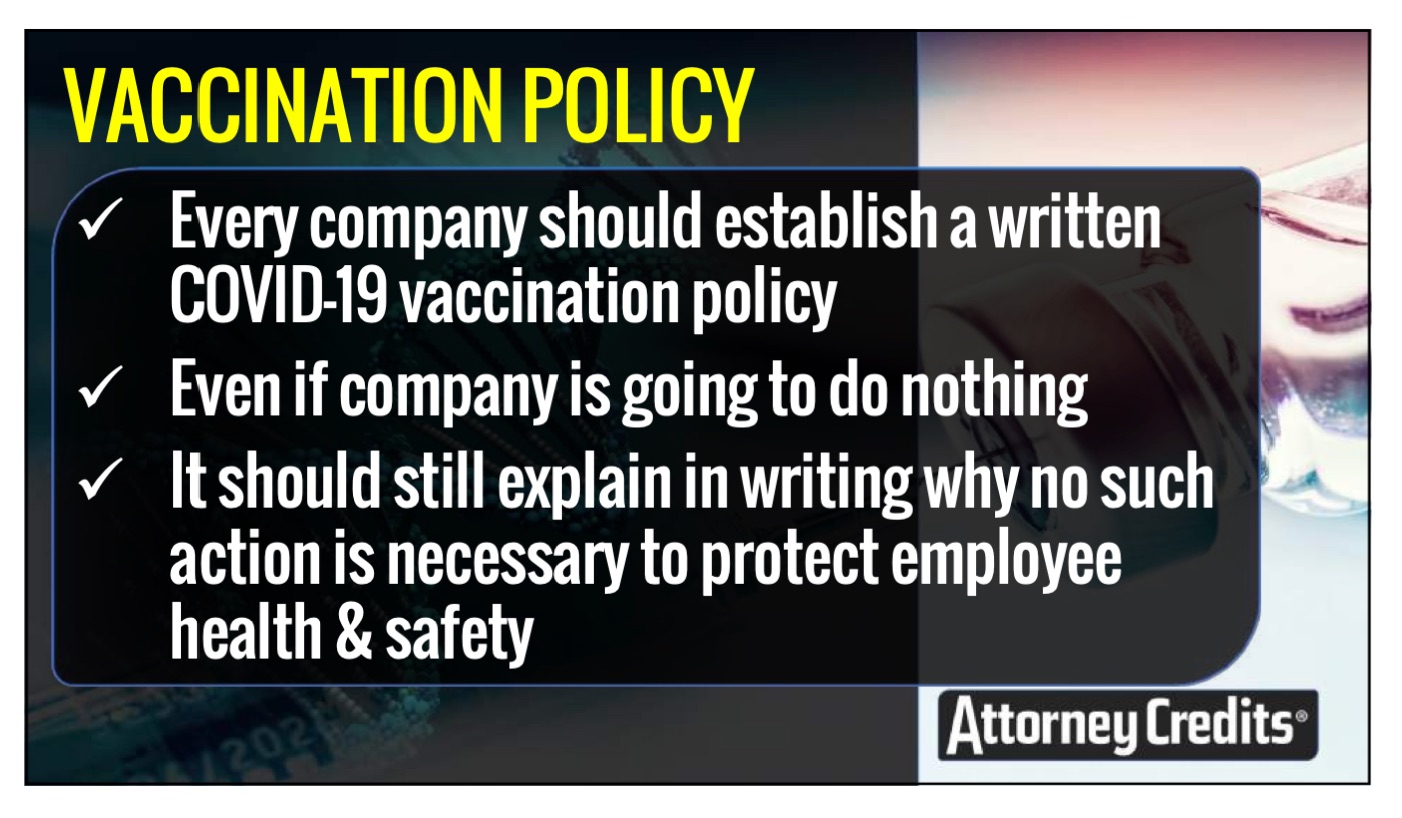 With multiple COVID-19 vaccines now deployed and available, employers and their counsel must have adequate policies dealing with vaccinating employees. Unfortunately, there are many more questions than answers in the alphabet soup regulatory maze… OSHA, Title VII, ADA, HIPAA, EEOC, ERISA, NLRA.
Vaccine Law: More Questions than Answers

What if an employee doesn't want to wear a mask? Will vaccination be mandated… encouraged, incentivized, or facilitated for all employees? What types of incentives like cash bonuses & PTO can employers legally provide? And what the heck is a Vaccine Ambassador?
An adjunct professor of Vaccine Law, Brian Abramson will provide some expert guidance for businesses, employers and the attorneys that represent them. He will further cover: public & employer mandates, Emergency Use Authorization (EUA), reasonable accommodations, VAERS Reporting System, OSHA Reporting and key points & clauses for company Vaccination Policies. To access the course please click here: Vaccine Law: What Employers Need to Know.
Main Topics:

* Klaassen v. Trustees of Indiana University

* Jenkins v. Mercy Hospital

* Bridges v. Houston Methodist
An author and highly requested lecturer, Brian Dean Abramson is a leading expert on vaccine law and is the primary author of Vaccine, Vaccination, and Immunization Law, the most comprehensive treatise written for this field of law.
This CLE course is offered in the following states:
* Alaska (AK)

* Alabama (AL)

* Arizona (AZ)

* California (CA)

* Connecticut (CT)

* District of Columbia (DC)

* Illinois (IL)

* Maryland (MD)

* Massachusetts (MA)

* Michigan (MI)

* Missouri (MO)

* New Hampshire (NH)

* New Jersey (NJ)

* New York (NY)

* North Dakota (ND)

* Pennsylvania (PA)

* South Dakota (SD)

* Vermont (VT)
Attorney Credits offers CLE for attorneys in California and around the country. For more information about CLE in California please click the following link: California CLE.