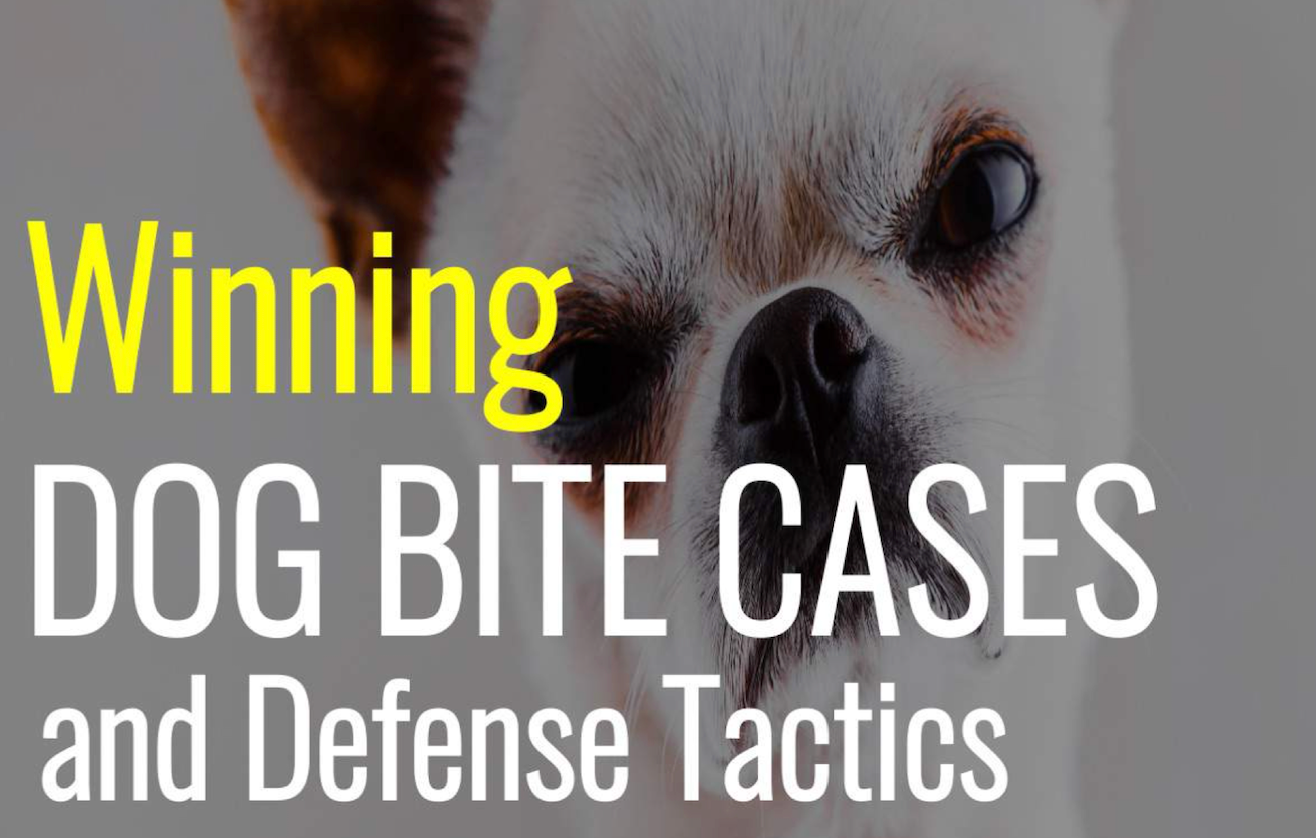 More Dog Bites During Pandemic
More people buying dogs during COVID, more Amazon & delivery drivers, more people working & staying around the house… and there's always plenty of tasty mail carriers. More dogs means one thing – more dog bites.
Dog Bite Law CLE

More than 4.5 million people are bitten by dogs each year in the United States and more than 800,000 receive medical attention for dog bites. When man's best friend isn't so friendly, the consequences can be very unfortunate.
Winning Your Dog Bite Case
A former prosecutor turned P.I. trial attorney, Claudine Wilkins will discuss practical tips for winning dog bite cases for your clients – from plaintiff's strategies & theories of law to restitution and damages. Claudine will also cover case intake, negligence & investigations and share numerous practical tips & strategies you can deploy at trial to get the best result for your client. To access the course please click here: Winning Dog Bite Cases and Defense Tactics.
Dog Bite CLE Topics:

* State law

* Reactionary & predatory dog bites

* Dog attacks

* Adoption centers & shelters

* Intentional mislabeling

* Dog bite legal toolkits

* The prosecutor's checklist

* Legislation

* Restitution

* Liability

* Negligence

* Dog at Large ordinances

* Injuries

* Initial intake

* Investigations

* Case law & examples

* Causes of dog bites

* Contributing factors

* Bad enclosures

* Bad laws
Claudine Wilkins – Animal Law Expert
Claudine Wilkins is an Animal Law Expert & Attorney. A former prosecutor, she has trained thousands of professionals in animal-related fields.
This CLE course is offered in the following states:

* Alaska (AK)

* Alabama (AL)

* Arizona (AZ)

* California (CA)

* Connecticut (CT)

* District of Columbia (DC)

* Illinois (IL)

* Maryland (MD)

* Massachusetts (MA)

* Michigan (MI)

* Missouri (MO)

* New Hampshire (NH)

* New Jersey (NJ)

* New York (NY)

* North Dakota (ND)

* Pennsylvania (PA)

* South Dakota (SD)

* Vermont (VT)
California CLE
Attorney Credits offers CLE for attorneys in California and around the country. For more information about CLE in California please click the following link: CA CLE.